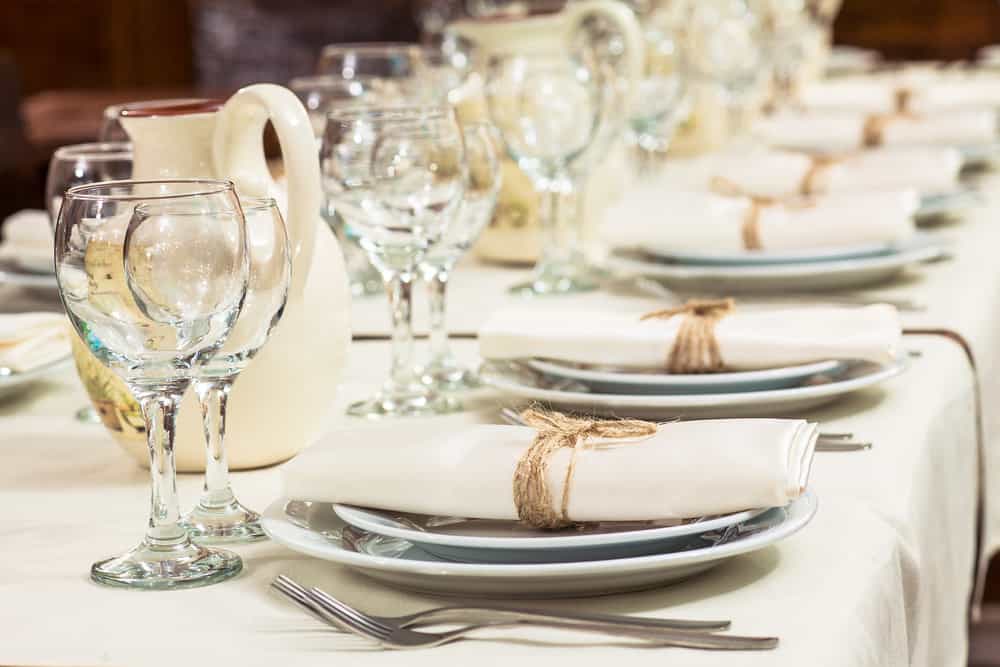 How to Choose the Right Dining Table?
Furnishing your dining room in style requires choosing the right dining table for your home. The perfect table will not only complement your space but also utilise it to an optimum level, leaving sufficient floor space for movement, while being aligned with the interior design to elevate the room's décor. Check out how to select the right table for your dining room and buy creative wholesale table covers for your dining table.
CHOOSING THE RIGHT DINING TABLE: WHAT TO CONSIDER?
There are a number of considerations for choosing the right dining table. Here is how to find the perfect dining table for your needs:
Always Measure for Size
Find the Appropriate Shape
Check the Table's Seating Space
Opt for the Right Material
Ensure Sturdy Construction
Consider Comfort Level
Remember These Additional Tips
Now, let's discuss how to select the right table for your dining room in detail.
ALWAYS MEASURE FOR SIZE
One of the first considerations for choosing the right dining table is to ensure that the table you are buying actually fits your space. For this, measure your dining area before you go shopping, because not only do you need a table that fits, but also one that leaves at least three feet of space on each side for easy movement around the table. This space will then be filled by the accompanying chairs, while still leaving enough space for foot traffic.
The trick to measuring and getting the right sized dining table for a room is to measure the length and the width of the room and to then subtract six feet from each of those measurements to get the ideal size.
It is important to note that if you live in a small apartment, going for a delicate and small table is generally recommended to avoid overcrowding the space, which means that you should be leaving even more than 3 feet of floor space bare to keep the interior harmonious and airy. Here are some other dining room ideas for small spaces to consider. Continue reading kitchen designs Auckland.
FIND THE APPROPRIATE SHAPE
Dining tables are generally available in round, square, oval, and rectangular shapes, but not every shape is ideal for every room. Choose a square or round table for a square room while oval or rectangular tables are best for narrow rooms.
The best part about oval or round shapes is that they will cut off the space taken up by the table's corners, allowing easy movement around the room. However, square or round tables focus on intimate dining experiences, and not all of the chairs might fit under the table properly. This is why rectangular or oval dining tables are recommended for homeowners who love hosting guests at mealtimes.
CHECK THE TABLE'S SEATING SPACE
The seating space of a dining table is not just determined by the length or width of the tabletop, but also by the way it is supported from below. A table with a pedestal base might offer very little legroom underneath, causing you to bump knees across the table if you scoot all the way in. It may also be less sturdy than a table with corner legs, spaced apart to offer plenty of legroom for each person seated on a chair.
In general, a round table with a 5-foot diameter can seat a minimum of 6 people, while a 7-foot round dining table can comfortably fit about 8 people for a meal if both of these have pedestal legs. For rectangular tables, the length of the table is usually how many people you can seat at it, with an 8-foot long table generally seating anywhere between 8 to 10 people on average.
OPT FOR THE RIGHT MATERIAL
Dining tables are available in a range of styles and materials. Wooden dining tables are the most classic option and often found in traditionally decorated homes. If hardwood is an expensive option, consider wooden laminates that cover a sheet of plywood with wooden patterns to give the feel and appeal of real wood. This kind of table might be low in quality though if you're careful about checking its sturdiness as explained below.
Another material for dining tables that is fairly popular is glass. While the table itself might be built using a blend of wood or metal legs and supports, the tabletop is made with tempered glass. There are several types of tempered glass but a property they all share is that they are quite resistant to chips and cracks unless extreme force is used. Thus, glass dining tables are a sleek, stylish, modern, yet functional addition to any home.
Stone, metal and plastic are other materials used to make dining tables, with metal and plastic being the best options for space-saving portable furniture, as they can easily be moulded or inserted with hinges to create additional leaves for your tabletops or to prop it up against the wall to use when needed. In contrast, tables built using stone or marble are sturdier and much more resistant to wear and tear.
ENSURE STURDY CONSTRUCTION
Sturdiness is an important consideration for traditional dining tables. You don't want the table to collapse on you after a few months of use. So, only purchase your dining table from reliable sellers and inspect the piece properly for its finishing before you pay for it.
Essential dining table selection tips also include making sure that there are no scratches or dents, no gaps where the legs meet the tabletop, and that the chairs do not creak or swing about when you try to scoot forward while sitting on them. If you are buying chairs that weren't present with the table on display, make sure that they actually fit underneath your table, as the last thing you need is chairs sticking out of the table due to a minor measurement error.
CONSIDER COMFORT LEVEL
Most dining tables can be versatile in their use. From serving meals to sitting with the kids for their homework or just gathering as a family for a chat, the dining table will become the hub of conversation and gatherings in the home if it is comfortable enough. Nobody wants to spend the meal sitting on an uncomfortable chair. Thus, comfort must always be a priority when you are selecting a dining table for your room.
Wooden chairs will generally be more comfortable in contrast to their plastic or metallic counterparts. They are also often bear more weight. You can also consider a set of cushioned dining chairs if you want to go for a modern metallic look but need to make the seating more comfortable.
REMEMBER THESE ADDITIONAL TIPS
Aside from the above-mentioned dining table selection tips, consider a few of these as well:
Always buy within your budget. Set your budget in advance so that you do not overspend on a single piece of furnishing.
Go for a timeless appeal. While you might want the dining table to complement your interior décor, it is also something you will not be changing often, so the design needs to offer versatility and durability.
Avoid custom designing a dining table unless you're looking for a space-saving design in accordance with your home or a unique shape that is not sold in readymade furniture markets.
The dining table needs to provide a comfortable seating experience, not just for when you have guests over to entertain but also for everyday use. Do not compromise on comfort in favour of style.
Bigger is better when it comes to dining tables. If you can fit a table that seats 8 people into your room and can afford it, do not opt for one that fits only 6 at a time for a meal. You'll thank us later for this one!
Consider extendable leaves on the tabletop or folding tables for tiny spaces rather than a traditional dining table.
Try to offer sufficient elbow room for every person seated at the table, unless you have to add extra seats for a huge gathering.
Opt for glass tabletops in dark, dingy apartments that lack natural light as the glass will reflect the available light and brighten up the space a little more.