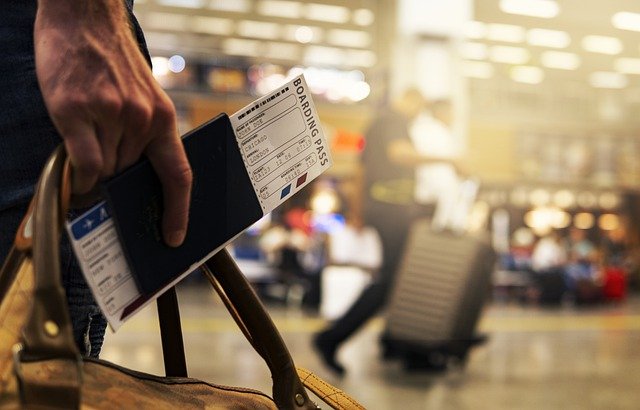 HOW ARE AI APPS HELPING TRAVEL AGENCIES REMAIN COMPETITIVE IN THE INDUSTRY
AI apps are used everywhere. So, it is not surprising that AI apps have also made a foray into the travel industry. As a result, the travel industry is progressing by leaps and bounds. So today, travel-based companies are using high-leverage AI-powered tools and solutions to remain competitive and stay a step ahead. These AI solutions are implemented throughout the travel process, from planning till the traveler reaches their destination. 
However, before we proceed further, here is a brief explanation of Artificial intelligence or AI. AI refers to programmed machines to think and perform tasks like humans, such as self-driving cars and robots exploring space. That is not all. The rapidly evolving AI technology also imitates human problem-solving and decision-making capabilities.
AI's entry into the travel industry
AI has made a grand entry into the travel industry employing widely used facial recognition systems and airport scanning devices. Along with these, other AI-powered technologies have made life easier for travelers and airport personnel alike. It shows that the travel industry has adopted AI-based technology with open arms to remain competitive. For example, it is reported that 50% of travelers do not ask for a guide during their trips. Instead, they rely on intelligent travel apps to guide them during their entire journey. So this is just one scenario. 
Here are some other ways the AI apps help travel agencies to remain competitive in the industry:
TRAVEL BOOKING:

Nowadays, the bulk of the travel booking work is accomplished online. AI tools have thus helped travel agencies not to stay laggard. Today, travellers no longer have to visit travel agencies to

book flights

and accommodation. Instead, various AI assistants and chatbots have replaced these travel agents for communications and search online. These chatbots and other AI assistants are deployed on skype, Facebook messenger, etc., to make their service readily available. The process is straightforward. Many online travel agencies use chatbots to start the conversation by entering the basic details of the intended journey. These chatbots respond to questions and provide valuable information. The response time on online platforms is faster compared to human response times. Then the chatbots search through various sites and help you find the best deals.

CUSTOMER SERVICES:

Gone are the days when you had to queue up for access to information from customer service. Now finding your gate in a busy terminal or getting some other information is made simple by the AI-powered robots. Many famous hotels have employed robots for their check-in and check-out processing. There is also a robot used in Heathrow airport which guides passengers to their terminals. These AI-powered robots can answer human queries regarding the features & attractions of the place and also give recommendations. With the recent pandemic, many are looking for contactless check-in and check-out processes and for general inquiries.   AI in the form of voice assistants has fulfilled this requirement efficiently. So now airlines and other travel agencies can use their employees in other fields or tasks which need human intervention.
FLIGHT FORECASTING:

  Today, AI-driven innovative price prediction applications help find the best flight price. Also, it gives information about future flight prices. For example, based on a machine-learning algorithm, the Hopper app predicts optimal hotel prices and flights and offers personalized recommendations about the best time to book a flight. With AI-powered dynamic pricing tools and predictive analysis, it is possible to compare and analyze prices.   These tools analyze the prices offered by competitors and show only the quotes with reasonable prices. It results in helping the travel industry to attract and retain customers.
DATA ANALYSIS:

The travel industry generates a lot of data that can be used effectively to further business interests if interpreted correctly. So travel agencies leverage AI to sort these vast amounts of data quickly and efficiently.   Once the data is interpreted correctly, companies are better positioned to provide practical solutions to their customers' needs. In addition, travel companies can improve their business practices and have economic pricing strategies to remain competitive.   So AI helps the travel industry stay competitive by going through the data such as customer feedback, surveys, reviews, and online polls quickly and accurately. Then, AI helps process the data and makes it helpful in interpreting so that businesses can draw proper conclusions for furthering their interests.

SMART BAGGAGE HANDLING: 

 It is expected that airports the world over will harness the AI for airport baggage handling.   Once this process is fully automated, airports can handle millions of bags efficiently and enable smart tracing of lost luggage. Many airports have already implemented AI  solutions with pilot projects.
AI TRENDING FACTS  IN THE TRAVEL INDUSTRY
AI-powered apps help travellers by guiding them and helping them to reach the places as per their plans.

AI virtual personal assistants book hotels using only voice commands.

AI-based mobile apps allow booking fight tickets and send notifications about upcoming trips.

AI-based apps encourage cashless card payments for hassle-free and secure payments.

Using VR technology, AI-supported guest room assistance functions, etc., are becoming a game-changer attraction for

hotel bookings

.

AI-based mobility solutions make the trips enjoyable and satisfying by providing end to end solutions.
CONCLUSION
Mentioned above are just a few ways AI has influenced the travel industry. Still, more and more ways are being discovered to effectively use AI to make the travel journey smooth and satisfying. AI saves travel businesses time and money and also eliminates human errors. 
As seen from the above article, AI has been effectively harnessed by the travel industry to improve personalization, guarantee fast response time in the absence of staff, and tailor recommendations. So, one can say that AI has started reforming the travel industry in unimaginable ways. All this has resulted in a hassle-free and enjoyable travel experience.  
The travel industry has heartily embraced AI and grabbed the opportunity to target customers, develop transparency in all its dealings efficiently, and remain competitive in its services.