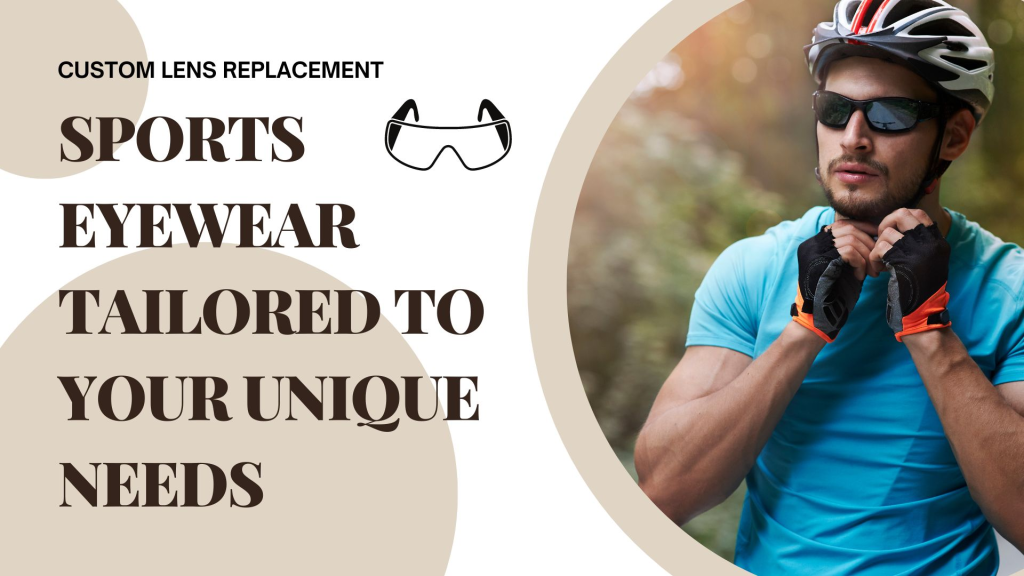 Custom Lens Replacement: Tailoring Sports Eyewear To Your Unique Needs
Protecting the eyes is a high-priority responsibility of every individual, and as an athlete, it's even more essential due to the outdoor activities you do. From sunlight to impact and even prescription lenses, your eyewear should be able to meet your desired needs.
Athletes with eye problems often find it challenging to customize their lens replacement. You may wonder what lens best fits your sports but would still enhance your visuals and enable you to perform better. And if you already have a prescription, you may wonder where to get prescription lenses put in frames that would not cause you any form of discomfort when you don
In this article, you will find all the essential features to look out for when customizing your replacement lens, especially the best lens that fits your sports. Let's check them out!
8 Things To Consider When Getting Sports Eyewear Lens
For athletes with eye defects, you shouldn't wear sports eyewear because that can hurt your eyes and may even worsen your condition.
Therefore, consider your eye defect if you have one and ensure that any sports eyewear you pick accommodates and enhances your vision corrections.
Suppose you perform sports, such as soccer or basketball, that tend to cause direct impacts. In that case, it is essential to check out the resistance ability of your lenses and incorporate them into a suitable frame.
For instance, when playing soccer with your team, there are chances of bumping into someone's shoulder or colliding. Glasses that cannot withstand such impacts are likely to crack or shatter. Therefore endeavor to get lenses with good, commendable impact resistance.
An excellent example of such a lens is Polycarbonate, which can withstand up to 50 times the impact compared to other lenses, making it a perfect option for you.
While putting prescription lenses on any frame may be more accessible, getting the right frame for your sports may not be as easy as many available frames are at your disposal.
Imagine running on tracks with your hands on your face, fixing and readjusting your sunnies with every little meter you cover. That will only result in terrible performance, of course! Blame it on loose frames.
So, here's what you should do: consider your sport. You don't want a frame you always have to put back in place when you're out and active. Ensure the frame fits and doesn't cause any form of inconvenience. 
Anti-Fog & Anti-Scratch Coatings:
Outdoor activities are bound to make us sweat and result in the accumulation of fog on our lenses. Fog is bound to affect your vision. Therefore add an anti-fog coating to your lens.
As for scratches, the Anti-scratch coating on your lens will prevent scratches due to regular usage.
Try as much as possible to get the right lens tint. Since there are many lens tints, you must take caution when picking one.
Finally, ensure it is the right tint for your sport. This way, you will perform better without discomfort.
One major reason most people get sunnies is for protection from harmful sun rays. This is also important for your outdoor activities since you will spend your active time in the sun. 
Try as much as possible to offer complete protection from UV rays. Ensure that it also deflects sunlight so they don't interrupt your vision when running or cycling.
This eyewear design offers you better vision and more comfort. Unlike most glasses, the wrap-around stays in place while you're active. This is one thing every athlete aims to achieve with their sunglasses.
This eye protects your eyes from air particles, especially when cycling, snowboarding, or even skydiving.
It may be surprising, but some eyewear frames make room for in-built ventilators to give you enough air.
Some eyewear has lens coatings that enable proper circulation of air. This keeps fog away and maintains the flow of air around your eyes. 
3 Features Of Good Sports Eyewear
A good pair of athletic sunnies must be designed appropriately and durable. No sunglasses are entirely shatterproof, but they should be able to withstand some level of impact. 
Your athletic sunglasses should be able to prevent light glare from entering your eyes.
For example, you could be cycling past a water body with a nonpolarized pair of sunglasses, and unintentionally, you stare into the water. Horizontal light may bounce off the water body and interrupt your visuals. 
But with a polarized lens, only vertical lights can enter through the filter, which means a more significant glare reduction.
No athlete would love sunglasses that feel heavy against their face. It takes a lot to be proactive with something that feels heavy sitting on your face.
For outdoor sports activities, it is best that you get lightweight sunglasses because you are likely to wear them all the time.
No one wants eyewear that feels burdensome and constantly reminds them of its presence on their face. Thus, you should get lightweight sunglasses. This way, you can be sure of maximum comfort.
Customize Your Athletic Sunnies
Getting eyewear that fits perfectly with your eye needs is top-notch eye care. But ensure that the frame and weight do not interrupt your performance.
Overall, avoid getting a lens and trying to manage it because it enables you to see. Speak with a professional optician about lens prescriptions before donning any eyewear.