Sustainable Design: How to Make Your House Eco-friendly?
A sustainable design isn't a specific branch of design. Still, the general rule is that all designs should operate as consumers become more aware of environmentally friendly concepts and more options for making your house sustainable. If not completely, then partially.
To reduce our impact on the environment, we should follow two simple rules:
Reserve resources
Cut waste
Recent research shows that 50% of the Earth's population already believes that sustainability is the key to manufacturing products and shipping them. Are you one of them?
Let's make sustainability your plan and the heart of your home interior. Caring about the planet can look stylish too!
Choose low-impact materials
Good design is obvious. The great design is transparent.
Really when we speak about an eco-friendly house, we don't mean buying some extra furniture or expensive textile. Instead, we mean clearing up the space and making green decisions.
One of them is slipcovers. They replace the need to purchase new furniture if it is damaged or stained or so old that its time is up. You just put a slipcover on and save money and your furniture from being abandoned in the trash.
Besides, all Mamma Mia Cover's collections are eco-friendly. When we choose some decor or furniture for the house, we think about its quality, style, and price and only then remember its impact on Earth.
Suppose we remember it at all. With Mamma Mia Covers, each product is manually manufactured in Italy by workers who care about each production element: choosing quality fabric to deliver it to a customer. Follow their example and bring such care to your home design.
Important advice: when buying anything, check the material for being non-toxic, biodegradable or recyclable, and sustainably sourced.
Making more informed choices is the basis of the Life Cycle Assessment. Pay attention to how the products are made, transported, and then disposed of. Ignorance is an antonym of a sustainable lifestyle. Saying that you didn't know about something doesn't make you less responsible. So stay informed!
Design for a life-time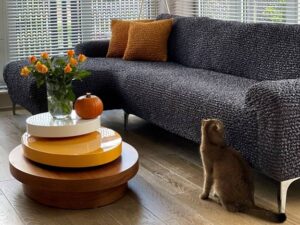 Traditionally any home design should be built based on longevity principles. As we live in a disposable society that damages the environment, we should instead be looking toward the distant horizon. Long-term solutions are a core of sustainability. Also, they are great fund-savers.
Choose durable options that will last for a more extended period.
Go with functional simplicity
Prefer classic design over short-term trends
Check on quality materials for your design to last
You can long for some changes over time, and it's ok. Such solutions as low-maintenance appliances, easy-to-clean materials, and modular flooring reduce the impact on the environment. For example, slipcovers can quickly satisfy your desire for an interior makeover and care about the planet.
Create a connection with nature
Bring the outdoors to your indoor interior. Bring your connection with nature inside your home to make it more profound. Use natural elements, textures, and colors that are a stunning reflection of local landscapes.
Diving into the digital technology world, we especially strongly feel the need for grounding and recharging. It's essential to keep a balance of high touch and high-tech. Sustainable design should not only be enduring but pleasant to the eye. Because one day, you can wake up and realize that you detest everything about your house. And demolishing and building something new could be cheaper than repairing everything, but consider the environmental cost.
Go with natural and breathable materials. Mille Righe and Jacquard collections are made of Italian breathable fabrics which protect from dirt and dust and are tear-resistant. Moreover, Jacquard's natural motives inspire travel to eastern countries.
Target waste reduction
One of the interior design challenges is reducing waste during the process. So to avoid that, we recommend you to:
Use synthetic materials that were made of partially or fully recycled products
Reuse and redesign old materials, for example, reclaimed wood for a fireplace
Recycled materials are suitable because they make a great cost-effective alternative and protect the environment. If your budget is tight, then go for it!
So the general rule is: Reduce what you purchase, Reuse what you already have, and Recycle what is no longer good to use.
Most modern recycling is actually 'down-cycling,' where items can't be endlessly returned to their original form. Here comes fact-checking. Take some extra time to check the information provided by the manufacturer. It can take you 20 minutes, but it prevents environmental pollution.
Designing an eco-friendly house always means thinking outside the box. Use these green living tips and ensure your sustainable future.
We should bring in an environmental attitude, and luxury should automatically be about sustainability and quality.