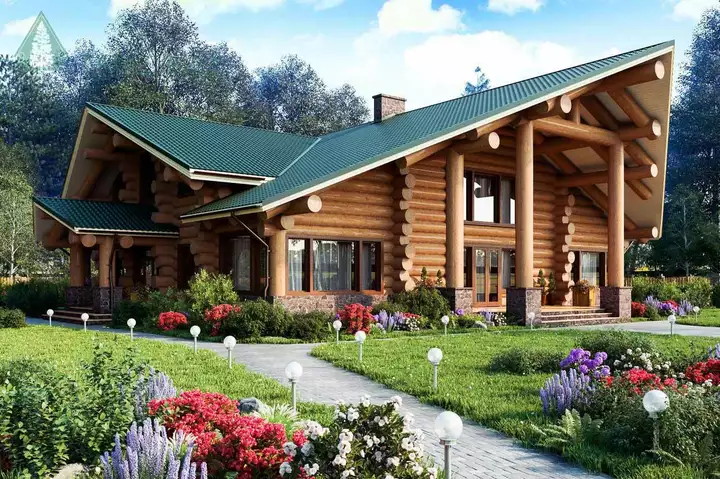 Do you need a terrace in a private house?
A terrace or porch is a great way to spend time with family or friends and enjoy the fresh air and natural scenery. They can either be built into the structure of the house or lie separately, located under the roof or in the open air. In addition, the design of a terrace or porch can be a great addition to the overall style composition of a private home. There are many options, but in any case, the design should be taken responsibly, well understand the advantages and disadvantages of both types of extensions.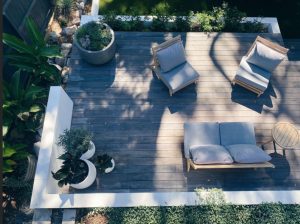 Source : srub.name
The difference between a terrace and a veranda
Despite the common purpose – to create a cozy, stylish space for suburban recreation – veranda and terrace are fundamentally different structures. Here are the main features that allow you to distinguish them:
A veranda is usually installed either on its own foundation or on a pre-provisioned part of the foundation of the main house. It is always a more solid construction than a terrace. The latter, in turn, is usually built without laying a foundation. Terraces are built on a base of sand and gravel, on some elevation above the ground.
A veranda always has a roof and walls, it is more functional. A terrace can be completely open – both for the sun and warm summer air, and for rain, snow and frost.
Veranda – a glazed structure in which, if necessary, you can carry heating, underfloor heating and plumbing. You can fully equip it as a living room, put a couch, have a small greenhouse, to take care of flowers. It is comfortable to be in such a room even in winter. The terrace, in turn, has a completely different purpose. In private homes, terraces are usually set up for summertime activities, barbecues and quiet evenings spent on a rocking chair.
Advantages and disadvantages of verandas
The advantages of verandas for the house are quite obvious – it is a full-fledged additional room, which, in addition to the beautiful appearance, allows you to expand the total area of the home space without fear of the weather, to spend there leisure time at any time of year. Disadvantages become apparent when calculating the costs. This is the cost of laying the foundation (if the veranda was not originally provided in the project), glazing, insulation. In general, it is much more expensive option in comparison with the terrace or gazebo. Another disadvantage – glazing and an enclosed format bring the veranda closer to what we usually call "enclosed space". The perks of being outdoors can pass you by. In addition, verandas often become a local "dumping ground" where everything that could not find a place in the house is accumulated.
Advantages and disadvantages of terraces
The main advantage of a terrace – it is an opportunity to spend time outdoors, to host barbecue parties, games. You can install a terrace and not as an extension of the house, and completely separately – as an independent structure. Deciding whether you need a terrace in a private home, you must remember that it is better to install a roof – it makes it possible to be there even in the pouring rain. In addition, it is usually a much more economical option compared to others, requires less material and technological costs. Among the disadvantages – you'll have to forget about the terrace for the whole winter, as well as in a thunderstorm or slanting rain, which does not stop the roof. You'll also have to clean up on outdoor terraces more often – the wind can chase leaves, branches and other natural debris inside. On the other hand, these disadvantages can override the installation of walls and glazing, which, in turn, again leads to material costs.
What are they like?
Before you take on the design of a country house, you need to decide what you want from the extension. Depending on your needs, you need to choose its type. Terraces can be:
Open terraces have no walls and roofs, and are installed in private houses solely for recreation in good, sunny and windless weather. When choosing this type of extension, it is best to use wood impregnated with a special composition that protects the material from the effects of moisture and low temperatures, which can be costly.
Such terraces are built close to the house, glazed, and the roof is installed. This brings them closer to covered verandahs and allows you to spend time in them even in bad weather. Their drawback – possible stuffiness in hot weather, but it can be corrected by installing sliding glass doors.
Semi-closed. It is a compromise between the two previous – usually a summer terrace adjacent to a private house and equipped with a roof, but without walls.
They can be enclosed, open or semi-enclosed. Their main feature – they are built as independent structures, in any place of the site. Usually they are used for light snacks in the middle of the summer day or evening tea parties, which kinship them with this type of outbuildings, such as a gazebo.
"Corner ones. Also called perimeter wrap-arounds. They are built along several (usually two) walls of the house, thereby making it possible to significantly increase the space for relaxation. Such extensions require a solid foundation, which will not allow the structure to collapse in case of ground subsidence or natural phenomena.
There are a lot of options for such solutions, but they are all united by the presence of several "floors" of the terrace, connected to each other by steps or hollow paths. They can both coincide with the floors of the house, and form their own, separate system. Any kind of terraces can be multi-level.
Verandas, in turn, are also divided into open and closed, differing in material, as well as the degree of glazing. Also distinguish:
Built-in. They are initially present in the plan of the house, as a rule, are located under the roof of the house itself and are an organic part of it
Such verandas are designed and built on a separate foundation. As a rule, the decision to build them is made after the construction of the house.
Materials for construction
The following materials are usually used in the construction of all types of additions to the house:
This material is quite easy to handle, so a terrace made of wood is ideal for a private house of non-standard shape, or for the embodiment of the original design solutions. Wood retains heat very well, so it is very well suited for winter, insulated verandahs. Aesthetic properties of wood have been widely known for many thousands of years – the natural appearance and incomparable smell always find connoisseurs. Of the disadvantages – this material requires careful maintenance. The so-called "terrace decking" is often used for flooring. This is specially treated boards made of solid wood, moisture-resistant and very durable.
As a rule, brick is chosen as the material for decorating a terrace or porch, if the private house itself is made of brick. Brick can be the walls of the extension, holding its columns. Such constructions have the highest indicators of strength, are environmentally friendly, and can last for many decades.
Usually it is used for the construction of supporting supports for glazed extensions, or for roofing. This is due to the fact that it well takes the desired shape and can be used in the construction of terraces and porches quite widely. Polycarbonate is impermeable to water, withstands temperature changes well.
A combination of metal and plastic. Typically, this material is used for fences and partitions, as well as for interior furnishings – chairs, tables and more.