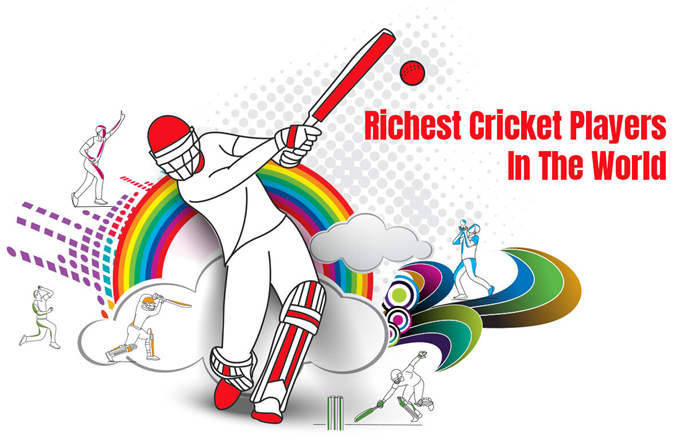 Richest Cricket Players In The World
Sports in any form or discipline is one of the highest-paying career options in the world. As celebrities with a sizable fan following, they are able to generate revenue in multiple ways. Wages for representing their national side, participating in league matches, and getting paid for endorsing products are some options for increasing their net worth. Sportspersons eking out a living in categories such as football, tennis, basketball, etc., may be earning fatter salaries than cricketers. But off late, the earnings of cricketers too have skyrocketed thanks to cricket associations across the world introducing cricket leagues along the lines of football leagues where players can dictate their remuneration expectations to the franchise owners. According to Inside Sports, while football pays the most to those who have embraced it as a profession, cricket comes in at number 10, providing a remuneration that isn't too shabby at all. The amount cricketers earn will only grow to bridge the divide as it increases in popularity and may eventually even end up as an Olympic sport. Armchair cricketers considering how to play fantasy cricket may not win endorsements, but winning prizes is a possibility.
Cricket's constant evolution has resulted in many millionaires the world over. Some of the top-notch players who command impressive pay packets are:
1.  Sachin Tendulkar – Net Worth: $170 Million
All Indians will be familiar with the name Sachin Tendulkar, cricket fans or otherwise. Such is the mark he left behind on the cricketing world. He is one of the best cricketers of all time and has scored 34,000 runs, including 100 centuries, equally split between test cricket and ODIs He has endorsed many well-known brands such as Pepsi, BMW, Canon, Philips, Castrol, and more. When he signed on the dotted line with MRF for a 100 crore deal in 2001, an amount of that magnitude was unheard of and a big deal at the time.
2.  MS Dhoni – Net Worth: $111 Million
India's most successful and former captain, Mahendra Singh Dhoni, popularly known as MSD, is a successful wicketkeeper-batsman known for his analytical mind and deep understanding of the game. His impassive face is always on display, even under a pressure-cooker environment, giving nothing away and hiding a shrewd cricketing brain. With MSD at the helm, India bagged two Asia Cups, an ICC Champions Trophy, an ICC T20 World Cup, and the prestigious 2011 Cricket World Cup. Besides being a brand ambassador for Reebok, he has endorsed TVS Motors, Sony Bravia, Lays, Snickers, and Gulf Oil, among others. He has invested in Indian Soccer League (ISL) side Chennaiyin FC. Dhoni is currently under a ₹15-crore/year retainer with IPL side Chennai Super Kings which he has captained since the start of IPL.
3.  Ricky Ponting – Net Worth: $70 Million
Next up is Australia's Ricky Ponting, who is their most successful captain and had a career that was the cause of envy among his peers. Ponting was a part of three world cup-winning squads, with two of them as captain, and has scored 27,000 runs in his 560 international appearances for Australia. He is the only Australian cricketer to captain his team to two consecutive ICC World Cups, apart from Clive Lloyd of West Indies. The basket of brands he endorsed includes Valvoline, Adidas, and Kookaburra bats.
4.  Brian Lara – Net Worth: $60 million
Brian Lara of Trinidad plays cricket with the cavalier attitude typical of so many of his compatriots.  During his long stint with the West Indies cricket team, he earned many accolades and was widely acknowledged as among the greatest of all time. Lara was a classy orthodox player, and all his shots were straight from the cricketing books. His copybook style of shotmaking earned him over 21,000 runs throughout his 430 international appearances and an undefeated knock of 400 in a single innings of the 2004 test match against England. This knock is the highest individual score in test cricket. After retiring from the game, he turned to philanthropy and founded the Pearl and Bunty Lara Foundation, which addresses healthcare issues and other social woes. He also plays professional golf and has achieved victory in quite a few international golf tournaments.
5.  Jacques Kallis – Net Worth: $48 Million
Last on this list of distinguished cricketers is the prolific South African all-rounder Jacques Kallis. All-rounders being a rare breed meant he was that much more in demand, with many leagues courting him once his playing days with South Africa concluded. Over his long and glorious career, he appeared in 519 international fixtures for South Africa and scored a grand total of 25,534 runs, and bagged 577 scalps. After his retirement in 2014, he has been coaching the current South African side and is also a batting consultant for the IPL side, Kolkata Knight Riders.
6.  Shane Watson – Net Worth: $30 Million
Shane Watson, full name Shane Robert Watson was an Australian all-rounder. He was a right-handed batsman and more than helpful in a pinch right-hand fast-medium bowler.  He was an exponent of the reverse swing, and when he was not claiming wickets, he was busy whacking the red cherry to all parts of the ground. As a batter, he was in the Matthew Hayden mold and would dispatch the ball to the boundary with a perfect combination of power and finesse.  Shane Watson overcame the handicap that came with a fragile, injury-prone body to become one of Australia's premier all-rounders of the 21st century. In his career with Cricket Australia, he made 307 appearances, scored 10950 runs, and bagged 291 wickets. These figures are a remarkable milestone keeping in mind his injury-ridden career.