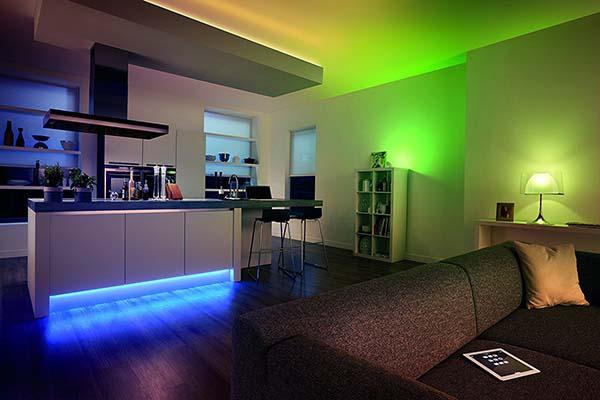 LED Strip Lights-5 benefits
Camping and outdoor activities are ready to pick up speed with Spring just around the corner. A lot of people start to update and maintain their houses during this time of year. You might be curious in learning more about the benefits of LED strip light. 
Nowadays, LED lights are the most popular option for most people. There are different advantages to adopting LED lights, whether you're using them for year-round or festive décor. Here are five unexpected benefits of choosing LED strip lights.
1. Energy Savings 
In comparison to incandescent bulbs, LED lighting uses 75% less energy. Power plants therefore aren't operating as hard or spewing out as many pollutants.
As a result, LED solutions are more practical for ongoing usage. The LED diode that creates the light is no larger than a pepper fleck, unlike the more traditional rope lights or Christmas lights. This small light can outperform its rivals while using less energy to do so.
2. Flexible Lighting Choices
You can light a space if you want to, whether it's a dormitory or the area around a camper. This helps in directing the path and intensity of the light.
For a more ambient look, you can also select various hues and color combinations. Accent lighting is now accessible to everyone because of its incredible flexibility.
3. Longer Life Span 
A led strip light has a long lifespan. In some situations, they have a lifespan of 40,000–50,000 hours. This would be the same as leaving a light on all the time for a long period of time.
The lights will start to dim after extensive use. It takes time for this process to take place, and it only becomes apparent as the lights near the end of their useful lives.
4. Easier to See 
Considering that LED light is emitted in a straight line, this light is simple to observe from a distance. As a result, no mirrors or reflectors are required, which prevents light from being dispersed.
Due to this, LED strip lights are suitable for use on cars that need to be seen at night in inclement weather.
LED strip lighting is sometimes used to create stunning accents around the cab and trailers of custom semi-trucks. This is more than just a design decision because it increases the vehicle's visibility everywhere and at all times.
5. Reduced Heat Production
Compared to earlier types of lighting solutions, LED strip lights produce far less heat. Since LED lights won't become hot enough to catch fire, leaving them on is significantly safer. This makes them manageable while illuminated as well.
While LED strip lighting is on, you can touch and control it without worrying that your fingertips will get burned. These lights benefit from this when camping or spending time outside. You may leave them on all night to keep your campground safe and well-lit.
Conclusion
You are helping yourself out by purchasing LED strip lights, whether you decide to use them in your home or camper. If you don't use LED lights, you'll need to replace your bulbs more frequently, which will increase the cost of replacing your lighting system as a whole.