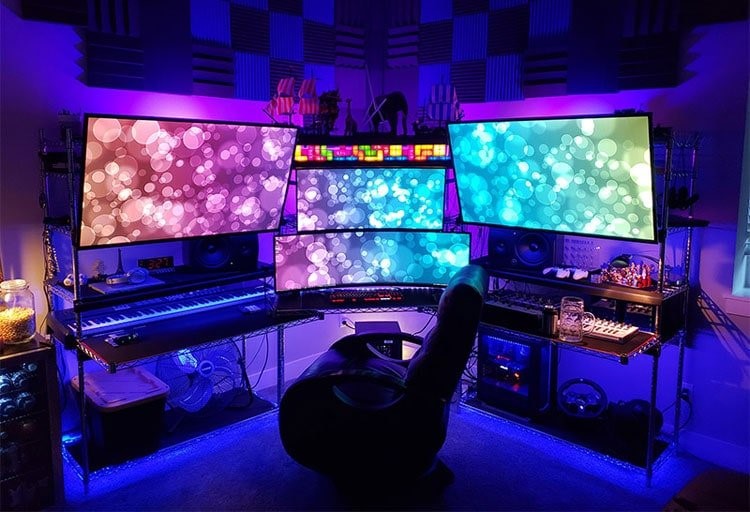 How to Create an Awesome Gaming Setup?
Who doesn't love gaming? I for one have been an avid gamer for quite some time. Can't remember when I started playing games. Perhaps it was many moons ago. Anyways, if you guys are experiencing slow gaming then I suggest you upgrade to internet services powered by Altice Optimum. You'll reduce ping spikes, jitter, and latency.
Back to the topic. Whether you're a casual player or hardcore gamer, you will appreciate a good gaming setup when you see one. Folks who play games for a living know the importance of a proper gaming environment. That said, you could create your gaming setup with the following steps.
Get a Comfortable Chair
Let's talk about the most important stuff. No, it isn't a gaming pc. Of course, many would disagree with that. But trust me when I say that chair is the most important part of the gaming environment. For me, a gaming chair is the equivalent of a throne. What can I say, years of playing RPG have had their effects on me (laughs in monarchy).
Gaming chairs are specifically designed to provide support to the spine. Hours of playing games without changing the posture can result in back pain. It is advisable to get a solid chair that can withstand intense reactions and sudden jerks. You won't be able to yell at your teammates with a sore back. Do not compromise on your health. Get a chair that offers long-lasting comfort. ErgoTune chairs are awesome for gaming, but this is just one of the many things they can be used for.
Invest in the Right Console
The gaming world is huge. You have the Xbox, the PlayStation, the PC, and the Game Boy to name a few. If you prefer PC gaming to consoles, then you should get a top-of-the-line machine. Consider buying a PC with a powerful processor and graphics card. Most games demand high-quality graphics cards and processors. You can even get a custom-made PC for your gaming experience.
Gaming consoles, on the other hand, come with limited variety. Moreover, you cannot play all the titles on a gaming console. For example, you cannot play the God of War series on Xbox as it is exclusive to PlayStation. However, a gaming PC can play multiple titles. It all depends on the specifications. The choice ultimately comes down to your personal preference. If you like PC gaming then you'd likely stick to it for the rest of your life.
Buy a Durable Gaming Desk
The gaming desk is a crucial part of the overall gaming setup. When buying a desk, you need to consider factors like the price and size of the desk. Consider getting a desk that matches your chair and the aesthetics of your gaming room.
You can go for either rectangular or an L-shaped gaming desk. The choice will depend on the size of your room. Moreover, choose a desk with a surface area sufficient enough to accommodate your monitor and speakers. Do not compromise on the quality of the gaming desk. You'll probably end up hitting it a lot due to the frustration that comes with losing a game.
Go for an Appropriate Monitor
The features of gaming monitors greatly differ from regular monitors. You will have to look out for refresh rates, color accuracy, and response time in a gaming monitor. Gaming monitors with fast refresh rates show smooth images. The refresh rates in gaming monitors can go up to 240hz.
Moreover, you will need to select a monitor that fits on your desk. Most gamers believe large screens are better. However, this isn't the case. Size becomes irrelevant when you're sitting too close to the screen. Gaming on large screens can also damage eyesight.
Grab Cool Accessories
These will include a mouse, keyboard, headset, etc. You can choose from wireless and wired keyboards. It all depends on your preference. A good wireless keyboard won't cause any lag. It will offer the right combination of macro keys and media buttons. When it comes to a mouse, any mouse with two buttons will get the job done. However, many gamers prefer advanced gaming mice due to their optical sensors.
Moving on to the headset. Choose a quality headset with a good microphone. Headsets are important for co-op gaming. The sound quality of the headset depends on the size of the driver. Do not get a headset with terrible sound quality or you'll end damaging your ears. A headset can either be opened or closed. The latter cancels the surrounding noise, allowing you to focus solely on gaming.
Conclusion
Hardcore gamers focus on the tiniest of the details when it comes to creating a gaming setup. Did I miss anything on my list? What do you think is essential for creating the ultimate gaming experience? Let me know your thoughts in the comments section below.