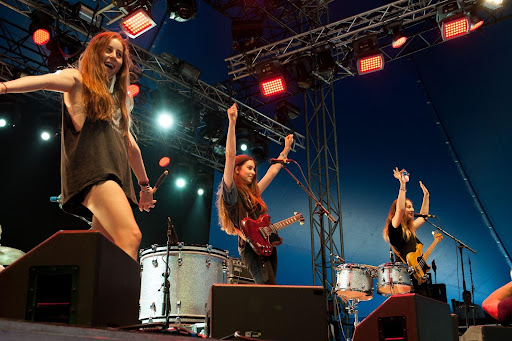 Haim and Their Influence on the Music Scene
Haim, or you can often find them in all caps, HAIM is an alternative rock and indie band. The band's name means "life" in Hebrew, and the three members are sisters. They are all part of a musical family. Their parents lead the cover band Rockinhaim. As you suppose, Haim is their surname, and their names are Este, Danielle, and Alana. Haim had a few successful albums, and they were nominated for Grammy in 2020.
Currently, they don't have many live events, but what we've found on GotStubs is that in 2023 they will have a few acts together with Taylor Swift and Gracie Abrams. Their last album was released in 2020. The fact that the summer of 2023 is full of live events and festivals gives us some hope they will work on something new for the year that comes.
If you've ever attended a haim concert, you know how energic these girls are and how beautiful are the messages they share.
But let's learn something more about who they are and how influential their work is for the music scene.
They are a Jewish Family in LA
Haim's parents, Donna and Moti, are talented musicians. The father, Moti, or Mordechai, was born in Israel and was in the military for years. He was also a talented soccer player who decided to leave his motherland and move to the USA in the 80s. He met their mother in America, and they got married and raised a family. But, the Jewish influence was huge while they were growing up.
Haim girls all speak English, but the oldest one has an Israeli accent due to her father's influence. Also, they were listening to music from Israel while young, with Ofra Haza being their favorite singer.
Their parents formed a band named Rockinhaim, which was a family project. As the girls grew up, they embraced the music career pretty seriously, adopting the family name Haim as a band brand.
Danielle was Popular Before the Band was Formed
Band formation was an obvious result of the family's talents and enthusiasm. But Danielle was already a part of the music industry, playing drums and guitar for other bands and artists. Among the most significant acts is the tour with Jenny Lewis as a drummer and later with Julian Casablancas from The Strokes as a guitarist.
People Have a Hard Time Pronouncing Their Name
Girls were all born in the USA, but Haim is a Hebrew word. So, they often teach the people how to pronounce the band's name, even though there are only four letters.
The pronunciation should sound something like "high-im" or just the way it's written for those whose languages work that way.
They Had a Few Successful Tours
Even though there is no haim tour scheduled any time soon, we must say that they had a few successful ones in the past. People love these girls because they give the music a fresh sound. For all those who are bored with the usual pop tunes, Haim is the best way to listen to something alternative indie and discover the rich sound and vocal layers in their songs.
We also must note that the girls didn't expect world popularity. They were working on their musical expression, embracing the family talent. But, you know, people often say that when there is talent and quality, fame and success are the expected results.
They Have an Exceptional Producer
If the name Ariel Rechsthaid sounds familiar, you are right, he is one of the most popular producers in the world. We can say he is the reason why Haim has been so popular from their first song until today.
Ariel has worked with celebrities like Adele and Beyonce too. His work resulted in a few Grammys, including Adele's Album of the Year.
Also, Danielle is in a relationship with him. So, it's pretty obvious how their energy affects the band. And we are sure he puts more work and effort into working with his partner's family.
They Highly Appreciate Their Jewish Origin
All of the girls are highly interested in Jewish tradition. They appreciate the Hebrew language and love Israel, even though they are all born in the USA. All of them speak Hebrew too. In the interview, you can easily detect their Israeli accent, but also their appreciation of their background.
They are Friends With Taylor Swift
The youngest of the Haim sisters is a close friend of Taylor Swift. So, obviously, all of the sisters are close to her. They often party together but also spend time in private.
Earlier, we mentioned that in 2023 they would have a few live acts together. It's all a result of their friendship.
The Musical Style and Influence
We can't categorize Haim into one genre since they mix different styles like indie rock, soft rock, pop, alternative rock, and some R&B details. People often compare them to Fleetwood Mac.
Besides Ofra Haza, they also love Joni Mitchell. It seems like the girls love to combine diverse musical expressions, which makes them quite unique. The music industry is often all about commercial tunes, so the alternative approach makes the artists more appreciated by the audience. Also, their vocals are unique, which gives more depth to every song they write.
They Were Opening Act for Many Tours
Haim had four successful tours, with "One More Haim Tour" being the most recent one. It seems they are done for 2022, preparing for 2023 acts, including the one with Taylor Swift.
Also, in 2022 they were an opening act for Red Hot Chili Peppers. Previously, through the years being active, they did the same for artists like The Killers, Florence, and the Machine, Rihanna, Kings of Leon, Mumford & Sons, The XX, and of course, for Taylor Swift's 2015 tour named "The 1989 World Tour."
So, if you don't know Haim, we suggest listening to a few songs today. You will immediately get used to the catchy sound and unique musical expression. And we are sure you would be very impatient waiting for their next album and tours.