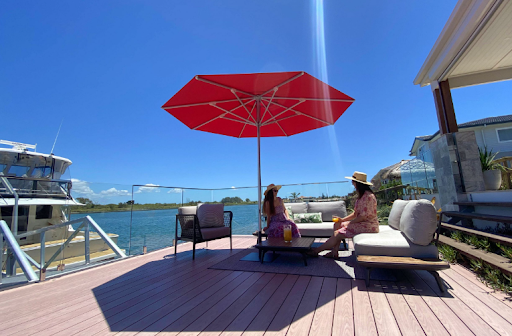 FOLLOW THESE STEPS TO STABILISE YOUR PATIO UMBRELLA IN HIGH WINDS
Cantilever or patio umbrellas are an important set of furniture, especially during the summer months when your outdoor space can become unbearably hot. The umbrellas can help regulate the temperature of your patio or backyard or commercial space and shield you from the harmful rays of the sun. You can also take shelter under them when it rains. The versatility of the umbrellas makes them a must-have device during Australian summers. 
However, there is one small thing that we must alert you about. During strong winds, patio umbrellas can become a source of bother. In fact, there is nothing more annoying than seeing your patio umbrella toppling over or getting blown away in high winds. The flying umbrella could also get damaged, or worse, hurt others.
An unstable large cantilever umbrella, therefore, becomes a source of constant worry when it should make the time you spend outdoors a relaxing and enjoyable one. Now, this begs the question as to how you can keep a patio umbrella from falling over.
In this blog, we will tell you about the steps to keep your restaurant umbrella secure. However, it is always advisable to pack your umbrella if the wind speed increases. This is because a strong gust of wind can flip over an umbrella irrespective of the measures you take to secure it. 
Read on to learn how you can stabilise your patio umbrella in high winds…
Use a patio table:
A sturdy patio table can go a long way in stabilising your umbrella. Most of the patio tables come with a hole in the centre. The hole is important as it supports the umbrella pole and keeps it upright.  The tables could also be a great accessory for social gatherings and you can place food or drinks on them.
Frame: The frame of a cantilever or patio umbrella is something that holds the device steady in high winds. So it is crucial that you select the right umbrella frame. 
The wind-resistant umbrella frames are mainly made of:
Aluminium:

It is one of the most popular options when it comes to umbrella frames. The metal is lightweight, inexpensive, and durable. Due to the malleable nature of aluminium, it is also flexible and doesn't break easily in high winds. Most aluminium frames are corrosion-resistant and inherently strong. Aluminium frames are also quite stylish and lend a sleek modern vibe to open spaces. 

Fiberglass:

Large cantilever umbrellas

with fiberglass frames are one of the most durable devices. The material is lightweight but strong at the same time. Similar to aluminium, it is also flexible, rust and corrosion-resistant. The malleable nature of fiberglass also makes it wind-resistant. 

Steel:

Stainless steel is naturally corrosion-resistant because of its chromium and nickel content. It is also resilient to rust and therefore are good choices for coastal areas. The material is quite strong, which makes it wind-resistant.
While frames made of any of these materials are popular choices, we must advise our readers to avoid buying umbrellas with wooden frames. These products might have a classic appeal but they tend to snap easily when facing strong winds. This is also a reason why they aren't that long-lasting and durable. 
Air vents: The vents in the umbrella allow the air to pass through them with little resistance. This makes the restaurant umbrella more stable. This feature also keeps you cool underneath the canopy.
Heavy base: A weighted base reduces the chances of your umbrella falling over. The heavy-duty base will hold, support, and secure the centre pole. Popular choices in heavy bases are metal plates, sandbags and water weights. You must also be mindful of the fact that an umbrella that weighs less will need stronger support when compared to a heavy umbrella, which might not need substantial weight to hold it down. 
However, there is no guarantee that your umbrella won't fly away in strong winds even if you use a heavy base to secure it. So you must act wisely if a strong gust of wind hits you.
Keeping it close to a stable structure: As already mentioned, added protection is sometimes not enough when a powerful wind storm hits. If you live in a windy area, it is always better to find an area close to a fence or a wall or building structure that will block winds from damaging your cantilever or patio umbrella. We must reiterate that if you feel that the wind is quite strong, you should fold your umbrella and store it safely inside.
Conclusion
Patio umbrellas are an ideal way to stay cool in the shade during the warm summer months in Australia. But continuous rattling or wobbling of an umbrella can at times get frustrating. So it is essential that you secure the umbrella. Another good practice is to keep your cantilever or patio umbrella closed when you are not using it. 
If you follow the above-mentioned steps, we are certain that you will be able to enjoy the cool shade of your umbrellas for many seasons to come.