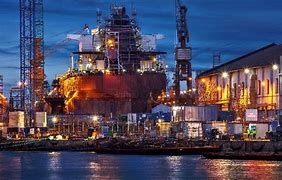 5 Tips To Choose The Best Lighting For Shipyards
Shipyards are huge commercial sites where ships are built, repaired, maintained, and even dismantled. You can imagine then that there is constant activity going on in these yards, also known as dockyards. These sites have huge machinery, slipways, and docks where work goes on 24/7. It is obvious that work cannot be carried out efficiently in such sites without proper illumination.
Work operations in commercial shipbuilding sites are carried out round the clock, and hence they require adequate lighting in the working areas, indoors as well as outdoors.  The installation of lights must be done after careful consideration of the nature of the work involved, the machinery, and a few other factors, such as the weather and the site's unique location and needs.
Shipyard operators and owners must consider the installation of smart industrial lighting solutions that can minimize the chances of accidents in shipyards. The electrical distribution system must also be checked to make sure there is no chance of poor or inadequate supply that may affect the work process at critical junctures.
Here are some tips that one should consider before choosing the best lighting systems for a commercial shipyard:
Choose Bright Lights For Enhanced Safety
Shipbuilding and repairing involve heavy-duty engineering. These include tasks such as complex welding, forging, and plumbing. Many of these operations are risky and may cause accidents if adequate safety measures are not carried out. Providing proper and quality lighting is extremely important to make the workers at the site feel secure and confident.
Owners must ensure that they install lights that offer the right brightness level.
Are LEDs A Good Option?
Shipyards are sprawling spaces. Ordinary lights cannot illuminate them. They need the best commercial lighting fixtures so that the whole area is appropriately and adequately illuminated.
At the same time, it is important to consider the cost of illumination. The price will be directly proportional to the number of lighting systems used and the consumption of power by each one of these systems. A simple way of managing this problem is to install LED light fittings designed for commercial use. They consume less electricity, offer longer life, and guarantee a higher return on investment.
Take Care Of Light Pollution
Did you know light pollution is a severe problem in commercial spaces? All outdoor lighting systems at shipyards must be concentrated and not diffused. This prevents leakage of light outside and in areas where they are not needed. The best lighting systems provide concentrated lights that help reduce the effect of light pollution in the surrounding areas.
Highest Level of Uniformity
Workers in commercial shipbuilding yards often suffer from eyesight issues. That's because they constantly work in lighting conditions that keep on varying. It can result in eye fatigue and hamper the progress, quality, and efficiency of work. The overall effect of this can be negative for the business. Make sure you use external lighting systems that offer a high level of uniformity.
Duraline is one of the leading names in manufacturing and supplying the best commercial lighting systems for open workspaces such as shipbuilding yards and construction sites. You can find a wide range of commercial and industrial lighting of the finest quality at competitive prices here.