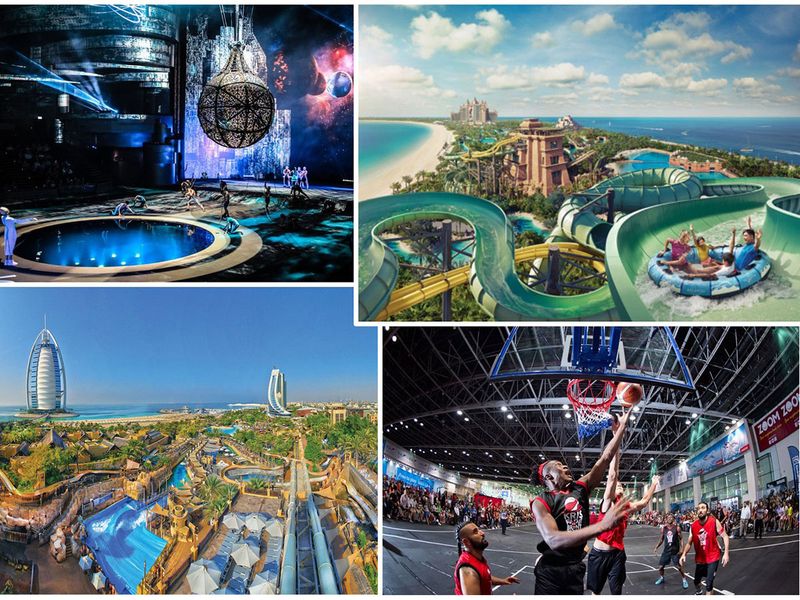 Things to Do in Dubai This Summer
Summers are here, and the scorching heat in the city of gold has become unbearable. This doesn't mean that you have to stay locked in your home throughout your summer break. There are numerous things and summer camps in Dubai you can take part in to beat the heat and have fun at the same time. 
So, what are you waiting for? Continue reading and decide where you want to go first.
Chill in a Water Park
Without a doubt, water parks are the most popular places in the emirate during summers. Well, who can deny that the best way to beat the heat is water? Moreover, the residents of Dubai are spoiled for choice when it comes to water parks because the emirate has a plethora of them.
You can choose any of them depending on your preference, location and, most importantly, budget. Some popular ones are Aquaventure Water Park, Wild Wadi, Laguna Water Park and the children friendly LEGOLAND.
Spend Time with Animals
Green Planet is the perfect indoor place for animal lovers in Dubai. Located on the City Walk, it offers a unique experience to its visitors. It is a man-made tropical rainforest that is home to some exotic species of flora and fauna.
When you're in Green Planet, you can meet and greet different animals. This place is perfect if you want to introduce your kids to some furry friends as there are various animals present here.
Watch the Dolphins
Visit Dubai Dolphinarium and witness the marvellous acrobatics of bottlenose dolphins and fur seals. This place is going to be the favourite one of your kids as they also offer swimming with the dolphins. So, if you're looking to have a fun-filled family day out, you know where to go now.
Try Indoor Skydiving at Ifly
You don't have to go outdoors up in the sky in a helicopter to enjoy skydiving in Dubai; everything is possible. Located in Mirdif City Centre is Ifly, an indoor skydiving facility where anyone can enjoy skydiving.
Moreover, as it is an indoor venture, you don't have to worry about the outside weather conditions; be it rainy or sunny, you can enjoy skydiving whenever you want.
Visit Dubai Aquarium & Underwater Zoo
Experience an underwater world without actually diving in the sea. The Dubai Aquarium and underwater zoo is a perfect place for everyone. This facility has more than 30,000 aquatic animals that you can see.
There are numerous other fun activities here too that you can enjoy. Such as cage snorkelling, feeding the baby sharks or taking a ride on a glass-bottom boat.
Go for Skiing
Beat the summer heat with snow, and go skiing in the world's largest indoor ski resort. Situated inside the Mall of Emirates, Ski Dubai is the place to be this summer. Try snowboarding, skiing or just watch the cute penguins march; Ski Dubai will make your day well spent.
Kids can build snowmen, ride Twin Track Bobsled, roll down the snowy slopes or just have a snowball fight. The best part of Ski Dubai is that your kids get the chance to interact with penguins here.
Bounce
It's the ultimate trampoline ground that everyone desires to pounce on. Bounce is one of the kids' favourite places in the emirate. Other than children, this is one of those few places where adults can also have all the fun they want.
Spend some quality time with your kids somersaulting, jumping and playing here at Bounce Dubai – the ultimate indoor trampoline.
Jumble
Jumble is an incredible indoor gaming venue located on Sheikh Zayed Rd in Al Barsha. Spread across a massive area of two floors, Jumble puts your physical and mental skills to the test. It is suitable for everyone, i.e., kids of all ages as well as adults can indulge in the activities here.
You can choose any activity to take part in from its 16 rooms that have different challenges and puzzles set.
In a nutshell, Dubai is one of those few places in the world where you can have all the fun without worrying about the scorching heat. However, apart from taking your kids to the aforementioned places, it's also recommended to provide them with an opportunity to learn. And for this, you can get them enrolled at special summer camps for kids. From taking part in physical activities to learning team building activities in Dubai, there are a lot of benefits of taking part in these camps. Also, kids will be able to make new friends and learn new skills as well.