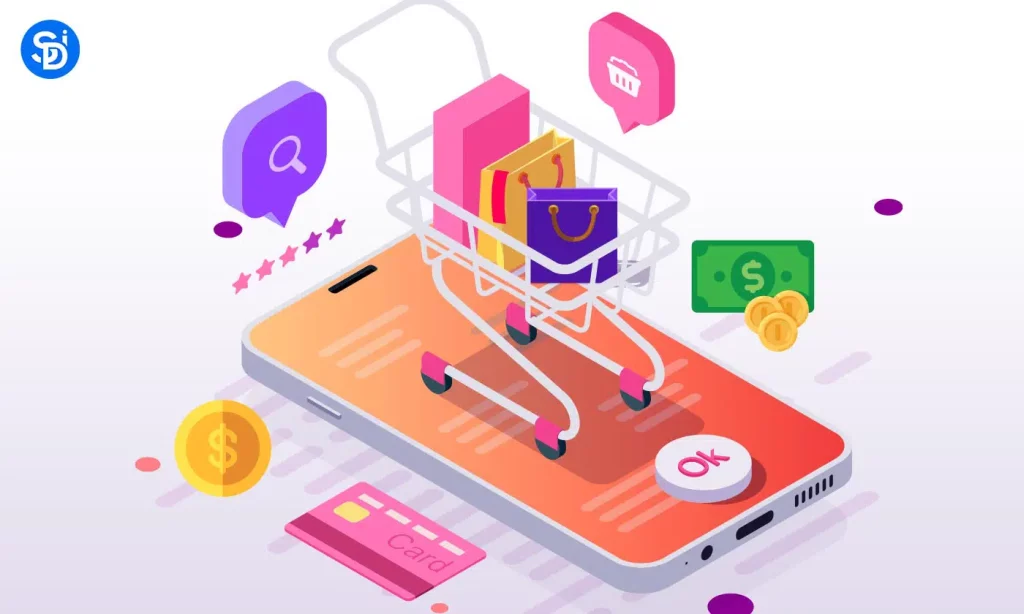 How Much Does it Cost to Hire an E-Commerce App Development Company?
With mobile apps becoming the core of our lives, everything is now available at the tip of our fingers. Let's talk about online shopping today. Consumers today make purchases by conducting a few simple research and then choosing their preferred e-commerce app for shopping. These e-commerce apps are now gradually replacing the e-commerce website by offering a unique and outstanding user experience. 
E-commerce mobile applications these days are built with a top-notch mobile-first interface, secured checkout process, quick loading mechanism, and instant access to anywhere within the app. These are some of the features that are making millennials go crazy over online shopping. 
As per a recent study, the online shopping trend has shown remarkable growth post-pandemic period. It is projected that e-commerce sales will reach $7 trillion by the end of the year 2025. The post-pandemic period hence has forced businesses to shift from physical retail stores to digital shopping stores. However, the most common question that has been bugging the e-commerce stakeholders is the cost of developing any commerce app. 
Considering all the factors responsible for influencing the e-commerce app development cost, it would range between $20,000- $35,000. This blog covers the top factors influencing the cost of developing an e-commerce app. 
Factors Influencing The Cost Of E-Commerce App Development
The cost of building an e-commerce app depends on certain factors and most importantly on the ecommerce app development company that you plan to hire. Let's check out the list. 
E-Commerce App Development Platform
The very first factor that influences the overall ecommerce app development cost is the type of platform you pick for your app development process. Majorly, there are two platforms, Android and IOS and the cost of both these platforms are almost the same.
In case, you opt for cross-platform app development, then it will help you to reach a wider audience and run on multiple devices seamlessly. 
UI/UX Design 
An interactive app design is crucial for keeping your users engaged and retaining them for a long time. An e-commerce app should not be just visually appealing but also be easily navigational for your users to explore throughout the app. An interactive user interface determines the success of your app. 
For a smoother user interface, you need to add seamless navigation where users can easily reach the menu bar or log in or make payments from their preferred payment mode. In short, your e-commerce app should allow the users to easily interact with your app.
E-Commerce App Features
The features you wish to incorporate into your app to make it more interesting and practical are another cost-influencing aspect of the e-commerce app. The cost significantly differs when both basic and sophisticated features, such as push alerts, social media integration, wishlist buttons, or payment gateways, are implemented.
The e-commerce app should include crucial features since they keep customers interested throughout the app and let them interact with your company at any time. To prevent app desertion, business owners must make sure that functionalities are accessible to users and simple to use. In order to make their app competitive, business owners can also add extra features based on user preferences.
Complexity and Size of the App 
The expense of development is determined by the size and complexity of your app's structure. When considering developing an e-commerce app, bear in mind that it has a complex app structure and requires a sizable budget. The application can be expanded with many useful features, but doing so will inevitably make it larger.
Testing of E-Commerce Apps
You must do thorough app testing if you want your e-commerce app to run without a hitch and to keep customers engaged for longer than you anticipate. Mobile app testing verifies the app's overall appearance on various devices. To assure the quality of the app with the least amount of work and expense, you can start the testing process early on.
Before releasing the final version, the testing of the app's usability or functionality is its main objective. For appropriate app testing, you may want to think about hiring a qualified quality assurance team.
Most importantly, testing will reduce the possibility of problems or glitches and guarantee a positive user experience. Testing an e-commerce app should cost more than $20,000.
Post-Delivery App Support & Maintenance
It is essential to offer post-delivery e-commerce app maintenance & support services since they maintain the app updated with the newest features and in top shape. Additionally, you can turn your intended audience into loyal clients by taking their input into account and updating your software. With prompt app maintenance & support services, business growth improves.
Updating and maintaining the app on a timely basis will improvise the user experience and also result in the generation of higher revenue. Keeping your e-commerce app updated post-delivery can cost you $20,000 or more. 
Concluding Thoughts
With a plethora of opportunities in the e-commerce market, it is always the best time to get your organization off the ground and invest in developing a robust e-commerce app that can help you to grow and thrive. 
Hire a reputed e-commerce app development company to get started with your app idea and turn your app concept into a real-time mobility solution.