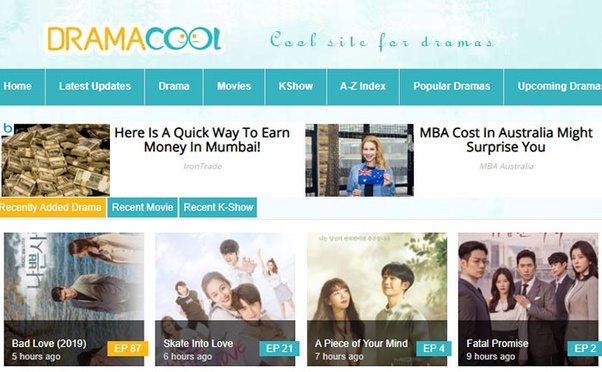 Dramacool And Its Ultimate Free Alternatives
Are you an Asian drama lover? If yes, then you must have heard about Dramacool, which is a popular platform that hosts Asian dramas. You can watch all the latest and old Japanese, Taiwanese, Hong Kong, Chinese, American, Indian and Korean drama shows on Dramacool in HD for free. You can also watch Asian movies on this ultimate platform. You can search the show from the top bar that is alphabetically organized. The search bar is also available, so users can type and search the Kdrama or movie they have been searching for. If you are unable to access Dramacool, then here we present you with a list of its free alternatives. 
DramaFever
For a reason, DramaFever is one of the most well-known names in the industry. The most recent episodes of the popular series can be found or watched here for free. Fans from all around the world may watch Asian dramas with ease because virtually all of the videos including English subtitles are available on this platform. However, if you want to avoid ads, you'll need to upgrade to a premium account.
Kissasian
Not only does Kissasian feature Korean dramas, but also Chinese, Taiwanese, Indian, Indonesian, and Japanese dramas. It also has a large selection of cartoons and anime to watch. There are more than 40 distinct genres to select from. The nicest part of Kissasian is that you can watch and download these dramas for free. Keep in mind, though, that the site is cluttered with advertisements.
VIKI
Viki is quite popular among Korean, Chinese, and Taiwanese drama lovers. It not only has dramas and films but also a variety of TV shows, fashion and lifestyle videos from all around the world. One of VIKI's most remarkable features is that it provides subtitles in a variety of languages, including English, Chinese, and Spanish. However, unlike the other streaming services, VIKI requires a fee to watch select shows. The site, on the other hand, provides a huge selection of dramas from many countries.
Viu
Viu is a famous site for Asian dramas that primarily caters to an international audience. Viu, like Dramacool, has all of the popular currently airing and past shows. Aside from that, Viu has a number of original shows that are only available on the app.
Dramania
This is a simple way to watch a wide range of Asian dramas. This site hosts the majority of currently airing Korean dramas. It has a simple and straightforward user interface, so even a beginner can also use it. The best part is that watching videos on Dongamovies and Dramania is completely free. As a result, you are free to watch as many episodes as you like.
Kiffy
Kiffy isn't as popular as Dramacool or other major sites, but it's still one of the finest places to watch Asian dramas and movies. The site is constantly updated, and all of the main dramas are uploaded for viewers every day. Most of the videos also have inbuilt subtitles in English. So, if you are a Kdrama lover, then you can use Kiffy to get access to a huge collection of Asian shows and movies for free.