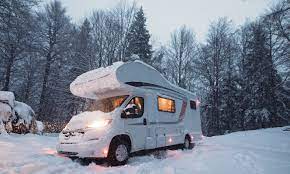 Can You Live in an RV in the Winter? A Helpful Guide
A recent study found that more than one million Americans regularly live in RVs. With the #vanlife movement, people have come to like a mobile home's mobility and minimalism. 
However, there have been diverse opinions, and many questions asked about RVs and the wintertime. Questions like, "Can you live in an RV in the winter, and what supplies are needed?" 
To help you, we've found all you need to know about living in an RV in the winter. That way, you can gather all the needed supplies to live comfortably in the cold. 
Read on to learn about living in an RV: 
Can You Live In an RV In the Winter? 
Absolutely! Many RVs can be lived in year-round. However, since manufacturers don't design RVs for year-round needs. For instance, some models may have poor insulation and are not built for certain weather conditions. 
That's why it's crucial that you either buy items to increase your rig's ruggedness or buy a four-season trailer. Either way, you'll be prepared for the cold temperatures and high moisture levels, making your RV last through the wintertime. 
3 Tips for Living in an RV in the Winter 
Living in an RV is no easy feat. You'll need to be prepared and buy essentials for the harsh and cold winter. Here are three things you'll need to live comfortably in the wintertime. 
Have a Class A RV 
Class A RVs are the largest and most luxurious coaches on the market. As such, they typically have a large bed and bathroom, a washer and dryer, a TV, a fireplace, and a fully equipped kitchen. Some also have slideouts which help save space and give you lots of room for cargo. 
Class A RVs are the perfect type of motorhome for the wintertime, as they provide amenities like high-quality insulation, heated floors, and heated water tanks. These amenities will help you to get through the winter comfortably, so if you're interested in buying an RV, we suggest purchasing a Class A. 
A Heated Water Hose Is a Must-Buy 
If you plan to live in an RV in the winter, buy a heated water hose immediately. Some RV parks won't let you connect to their water supply if you don't have one; needless to say, a heated water hose is a crucial purchase. 
After all, any hose will freeze once the temperature drops below freezing. However, a heated water hose keeps the water above low temperatures, ensuring a consistent water supply. 
Purchase Cold-Blocking Window Curtains 
While you may enjoy the natural light that shines through your window, remember that you're also letting cold air into your camper. To reduce the cold air, buy thermal curtains or Reflectix sheets. 
These items can decrease the amount of cold air in your trailer, making the air warmer and dryer. While these items can be expensive, they more than pay for themselves since they can help you save money on heating. 
Winter RV Lifestyle: Your Questions Answered 
With winter coming up, it's understandable that people ask 'can you live in an RV in the winter?' Although the answer is yes, those that are thinking of living in an RV either need to get a class-A camper or buy the necessities to make the camper last. 
RVs are not designed to handle certain weather conditions, and as such, they need extra supplies to last the winter's entirety. For more information about the RV lifestyle, visit our blog today.