Although many retailers now provide perk-loaded credit cards, GameStop Corp. (GME) was the first to do so in the gaming-specific market. Initial feedback from the target market was unreliable. Some in the gaming industry feared that GameStop was luring children into a debt trap with its initial advertising that "everyone is approved," and the relatively high annual percentage rates (APR) also drew criticism.
Fortunately, normal credit guidelines are followed and only borrowers who are 18 or older are granted lines of credit. The APR range is higher than that of typical bank-issued cards, but it is still competitive with similar store cards. The rewards programme may be very advantageous for regular customers.
How to Use a GameStop Credit Card
The retailer's PowerUp Rewards programme is expanded by the GameStop credit card. The credit card is only available to programme participants and can only be used in-person at GameStop locations or online at the GameStop website.
The credit line granted varies between $250 and $3,000 and is determined by the credit history of each applicant. By calling customer service and asking a supervisor for manual approval, a higher limit may be requested. The customer has two options: either pay the entire balance in full each month, or spread out smaller payments over time, which will add interest to the total.
Rewards and Benefits
Which version of the GameStop PowerUp Rewards programme the customer is a part of determines the credit card rewards. There are two versions of the programme: Basic and Pro. Free basic membership allows users to earn 10 points for every dollar spent on purchases. With these points, you can shop the rewards catalogue for gaming accessories, rare collectibles, deals, and more. The $14.99 pro membership grants double points for purchases, special offers, discounts on some items, and a monthly magazine subscription.
A 5,000 point bonus is given to basic members who apply for a GameStop credit card. Pro subscribers are awarded 15,000 points. In addition, cardholders get an extra 5,000 points for every $250 they spend throughout the year. Additionally, the business promises exclusive deals to cardholders.
The card works best for frequent GameStop customers because they can rack up points much faster. For instance, a Basic member would typically only receive 2,500 points for spending $250. They can earn the 2,500 points plus an additional 5,000 points for the same purchase when using the GameStop credit card. The total becomes 12,500 points rather than 2,500 points when the 5,000 sign-up bonus is added in.
Read More: How to Remove a Card from Doordash: All Steps Guidance(2022)
Where Can Someone Get the GameStop Credit Card?
To apply online, candidates should go to GameStop.com. Comenity Capital Bank, the issuer of the GameStop PowerUp Rewards credit card, also accepts applications online.
What Kind of Credit Is Required for the GameStop Credit Card?
In comparison to other credit cards, GameStop's credit requirements are seen as being more lenient. Customers who have credit scores in the low to mid 600s claim to have been approved.
GameStop checks for established credit, a consistent source of income, and a fair-to-good credit score, just like most credit card companies do.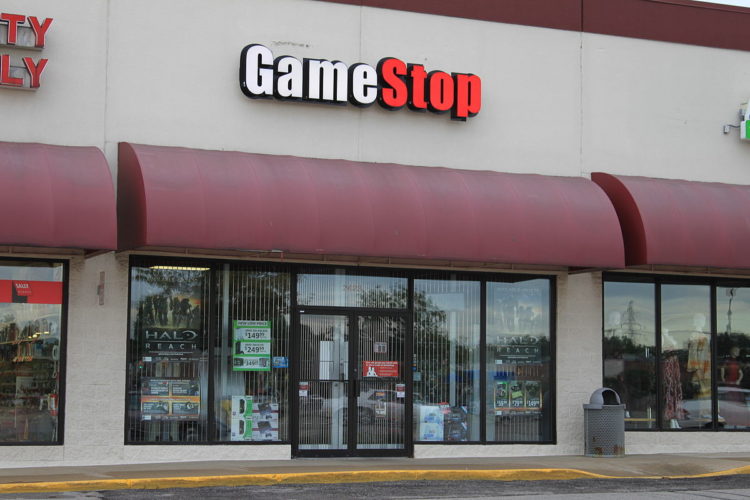 Where Can You Use Your GameStop Credit Card?
Only GameStop, whether in-store or online, is permitted to use the GameStop credit card. On cards issued as Visa or Mastercard, however, cash advances are permitted.
Alternatives to the GameStop Credit Card
Other conventional retailers that sell gaming products, like Best Buy Co. Inc. (BBY), frequently provide rewards percentages and/or interest-free financing options for using their own store cards. For instance, Best Buy provides 12-month financing or a 5-percent rebate. Cards from these merchants are typically affiliated with Visa or MasterCard, making them universally usable rather than limited to use at the particular store or website. Comparable credit cards with comparable rewards programmes are available from online retailers like Amazon.com Inc. (AMZN).
Terms and Conditions of the GameStop Credit Card
The GameStop card's standard APR is 26.99 percent as of March 2021. Even for merchant credit cards, GameStop's card has "extortionate interest rates," which have drawn initial criticism from the gaming community. According to a 2020 CreditCards.com survey of retail cards, the average APR is 25.90 percent (though many of the 81 cards surveyed did hit 30 percent ). Banks and other financial institutions commonly charge around 20% less for standard, all-purpose credit cards for customers with good credit.
No annual fee is advertised for the GameStop credit card, which is typical of store credit cards.
Who Should Consider the GameStop Credit Card?
The GameStop credit card should be taken into consideration by frequent gamers, GameStop customers, and GameStop PowerUp rewards members. The card allows users to make purchases and gradually pay off their balance. Additionally, cardholders can build or improve their credit while gaining access to exclusive offers and earning more rewards.
Frequently asked questions
What Credit Card Does GameStop Have?
GameStop has a PowerUp Rewards credit card that comes with a number of perks and special deals for cardholders.
Does GameStop accept online credit card applications?
You can apply for a GameStop PowerUp credit card online at GameStop.com or Comenity.com, the website for the company that issues the cards (search by brand).
Conclusion
The GameStop credit card can be entertaining to have if you're a serious gamer. However, because of its high interest rate, it is most profitable for regular customers who make monthly payments on their balances. Shop online or in-person to earn rewards for your purchases. You'll prevent late fees and blemishes on your credit by adhering to the agreement's terms.
We sincerely hope that the details in this article on Benefits and Rewards of Using a GameStop Credit Card were useful. If so, kindly let your loved ones and friends know as well. Read our article on the subject if you're interested in finding out how to use a GameStop gift certificate online. We've kept it very straightforward.