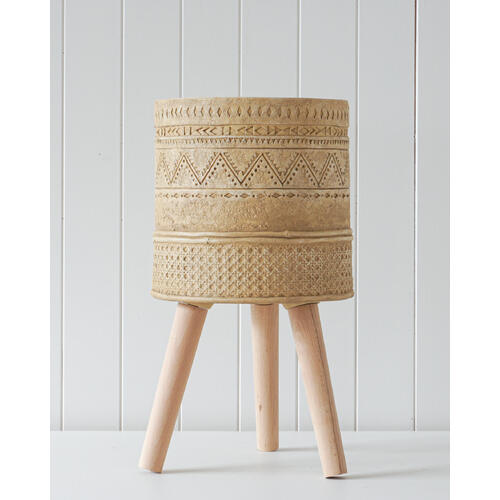 All About Ceramic and Tin Planters
A recent trend in the planter industry is to use new materials such as ceramic, tin, timber, and rattan. Sales of these planters are surging because they offer both an environmentally-friendly choice and the ability to put a different look on plants without going through the costly process of buying new pots.
Buying pots from a wholesale dealer is a great choice for the following reasons:
Save money: Buying pots in bulk from a wholesale dealer is cheaper than buying them individually from a retailer.
More choices: Typically, wholesale pots offer a much more comprehensive range than the pots available at retailers. Hence, every buyer can find the perfect pots for their plants.
Plants will be happier: Ceramic, tin, timber and rattan plant pots are all excellent choices because they're breathable. This means that plants will be able to take in more nutrition from the water and sunlight, which is essential for their health.
What Are the Benefits of a Ceramic Planter?
A ceramic plant pot is straightforward to care for and maintain, making it an excellent choice for busy people. The following are some of the benefits of owning a ceramic planter:
Ceramic pots are very stylish and can enhance the aesthetics of the house.
Ceramic pots are perfect for indoor or outdoor use.
They are very durable and long-lasting.
How to Care For Ceramic Planter?
When it comes to ceramic planters, the most important thing to remember is that they are porous. This means the plants in these pots need to be watered more often than in other pots. In addition,  one must not overwater the plant in a ceramic pot since the plant's roots can become waterlogged and start to rot.
What Are the Benefits of a Tin Planter?
A tin planter is typically used for plants that do not require much space, such as cacti or succulents. Tin pots are often used for decoration, as they can add a unique and stylish touch to any room.
Tin is a durable material that can withstand the elements, and thereby, the pot will last for numerous years. Tin is also a recyclable material, so one can feel good about using a sustainable option for plants.
Tin pots are also lightweight, making them easy to move around. Since tin is a natural heat conductor,  plants will stay warmer in a tin pot than in other materials.
How to Care for Tin Planter?
Wipe the pot with a damp cloth regularly to remove dirt or debris.
If the pot looks dull, one can polish it with a soft, dry cloth.
Ensure to empty the drainage tray beneath the pot after watering plants.
If one plans to move the pot around, be careful not to scratch or dent the surface.
Conclusion
If one is looking for a stylish and modern way to spruce up one's home, wholesale pots are a great choice. They are available in various materials such as ceramic, tin, timber, and rattan, which are the buzz at the moment.
Ceramic pots are beautiful and come in various colours, shapes and sizes. They're also great for indoor plants as they help regulate moisture levels.
Tin pots are another popular choice, especially for those who want a more rustic look. They're perfect for indoor and outdoor plants, and like ceramic pots, they come in a range of different sizes and shapes.
Timber pots are ideal if one looks for something a little more sturdy. They're perfect for heavier plants and can be used indoors and outdoors.
Rattan pots are perfect for giving plants a stylish, natural look. Rattan pots are lightweight and easy to move around, making them ideal for balconies or patios.