5 Small Renovations That Will Give Your Bathroom a Unique Look
With so much focus on extensive renovations, it's easy to forget the little things. But small renovations can significantly impact your bathroom – and not just in terms of looks.
Bathroom renovations can be daunting, but with a little creativity and some basic furniture rearranging, you can transform your bathroom into both functional and stylish.
This article focuses on five small renovations that will give your bathroom a unique look. From updated tilework to bold new colors, these transformations will impress guests and brighten your daily life.
So what are you waiting for? Get started!
Top 5 Small Renovations That Will Give Your Bathroom a Stunning Look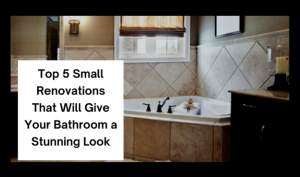 Creativity and design can go a long way in giving your bathroom a stunning look. Check out these top five small renovations that will help you achieve your desired look.
1. Proper Lighting
One of the most cost-effective ways to change your bathroom's look is to change your lighting fixtures. Not only will this give your bathroom a new and unique look, but it will also make it easier to use.
There are several different types of lights that you can use in your bathroom, each with its own benefits and drawbacks. Here are four of the most reasonable choices:
Incandescent Lights:

These are the traditional light bulbs you're probably used to seeing in almost every home. They're affordable and easy to replace, but they have one major drawback: they produce a lot of heat. This can be problematic if you have a small bathroom or want to keep your bathroom cool during the summertime.

Halogen Lights:

Halogen lamps are more energy-efficient than incandescent lights but emit less light than LED lights. They're perfect for small bathrooms or spaces where brightness isn't a priority.

LED Lights:

LED lights are the future of lighting and fast becoming the standard in many industries because of their versatility and longevity. They don't require any replacement parts and consume very little energy, making them ideal for bathrooms where conservation is essential.

UV Light Bulbs:

UV light bulbs are perfect for bathrooms that need extra security against infection or bacteria. UV-C radiation is highly effective at killing microbes, making it ideal for use in public or commercial settings where sanitization is essential.
2. Installing a Freestanding Tub
Freestanding tubs are usually much smaller than traditional bathtubs. They are perfect for small bathrooms or bathrooms that don't have enough storage space. The freestanding tub next to shower can be mounted on the wall or floor, making it easier to access.
Also, freestanding tubs usually come with their own shower head and curtain, giving you more flexibility when styling your bathroom.
There are several things you need to consider when installing a freestanding tub:
Location:

You'll want to choose an area appropriate for the tub and bathroom. Ensure that the tub is away from water pipes, radiators, or other appliances.

Size:

Choose the right size for your bathroom. Most freestanding tubs are between 30 and 50 inches in height and width.

Design:

Be sure to select the right design for your bathroom. Both traditional and contemporary designs are available, each with its own benefits and disadvantages.

Installation:

So, how to install a freestanding tub

?

The

installation process

will vary depending on the type of flooring in your bathroom and the type of tub you're installing. However, most freestanding tubs can be installed in just two hours or less!
Freestanding tub faucet installation is a great way to add a touch of luxury and style to your bathroom. Not only does it give your bathroom an updated look, but it also saves you a lot of space. If you want to upgrade your bathroom without the hassle of remodeling, installing a freestanding tub is the perfect solution.
These are some of the best freestanding tubs:
The 72″ Extra Wide Bandon Resin Freestanding Double-Slipper Tub
It is the best freestanding tub on the market because it has a lot of features that make it stand out from the competition. First and foremost, this tub is extra wide – making it perfect for larger families or groups who want to enjoy a relaxing bath together. It also comes with a built-in overflow basin at the bottom, which means you can never run out of space when taking a bath.
The 56″ Bandon Resin Freestanding Tub
It is also worthy of your attention. Not only does it come in an extra wide size, but it's also made from high-quality resin that's durable and easy to clean. Plus, its slipper design makes it easy to move around – perfect for smaller spaces or if you have arthritis or other mobility issues.
Grayson Acrylic Double-Slipper Freestanding Tub With Insulation
It is another great option if you're looking for a freestanding tub with insulation. This tub is both stylish and comfortable, making it a great choice for anyone who wants quality bathtub accommodations without breaking the bank.
3. Refresh Fixtures
If your faucet and showerhead look tired, you may want to consider replacing them. You can find a wide selection of new, modern fixtures that will give your bathroom a unique look.
When it comes to fixtures, it's essential to choose something that will work well with your bathroom style. There are many different styles, so you need to find something that suits your taste. Some popular options include ceramic tiles, copper fittings, and glass panels.
It's also worth considering what kind of design you want for your bathroom. A standard faucet and showerhead may be ideal if you're looking for something simple and classic. However, suppose you're looking for something more stylish and up-to-date. In that case, you'll need to consider some of the newer options available.