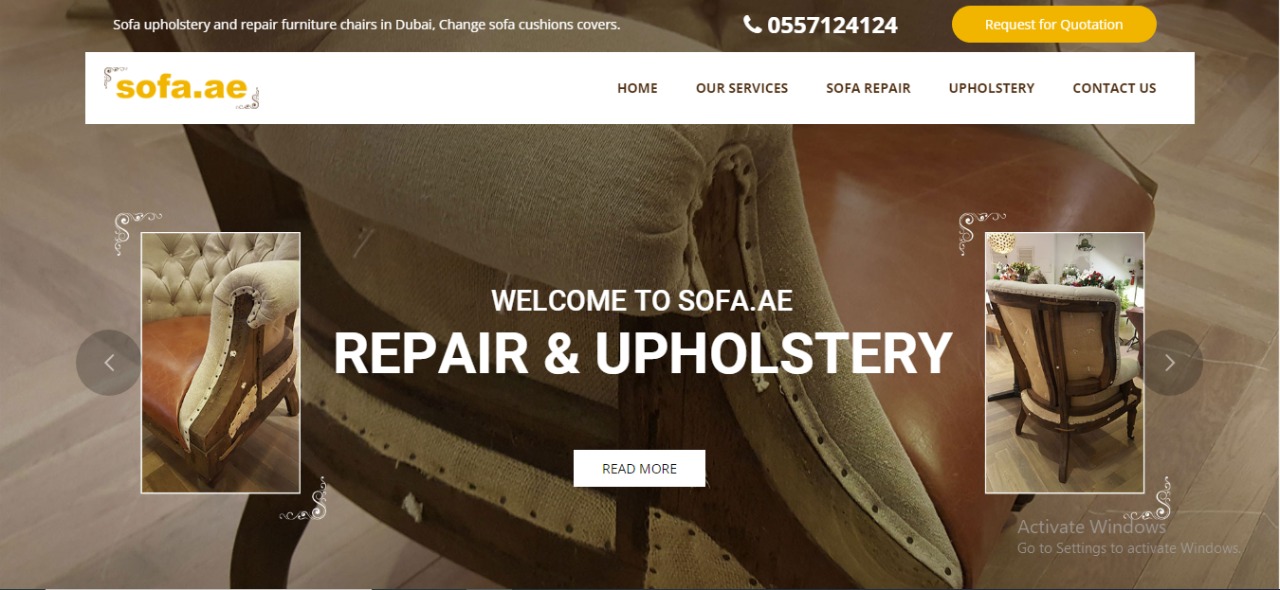 Which Sofa Fabric Is Best For You
Buying a new sofa is a large and necessary purchase. Your sofa should be both beautiful and functional since it will be the focal piece of your living room set and a place to relax with a book, cuddle up with a loved one or gather with friends and family. Where do you start with so many styles and price ranges to choose from? How do you decide on a sofa fabric that will provide lasting beauty for your home and durable comfort for your family to enjoy for years to come? Sofa.ae Offers you Best Upholstery in Dubai
Furniture can be upholstered in either leather or fabric. Then you must decide if you want real/natural fabrics or synthetic. When considering your choices, consider these central questions:
– Do you want natural materials or synthetic? Genuine leather or faux? Keep in mind: natural materials may be more beautiful but aren't practical for all homes.
– Will it is reserved for formal occasions (light wear/use) or daily family living (heavier, constant use)?
– How much do you want to spend? Natural, high-end pieces can cost thousands and last through generations, while synthetic fabrics are cheaper and withstand more wear and tear.
Leather: Genuine or Faux?
– Genuine leather is the most durable natural upholstery material available. Expensive, yes, but it's also comfortable, versatile, and durable.
– Faux leather (usually made from a Polyamide blend microfiber) can be an alternative for those who like the look of leather but want to be more animal-friendly. Most microfiber blends are soft and easy to clean (though not as breathable as natural leather) and come in various colours. Less famous is PVC fibres; it is neither healthy nor environmentally friendly due to the toxic chemicals released during the construction or destruction phase.
Furniture Upholstery Dubai
When it comes to furniture repair and restoration, there's not much more crucial than upholstery. And if you want all of that work done to your Sofa, look no further than Sofa.AE – a professional Upholstery Dubai & Furniture Service Dubai company that has mastered all facets of chair & Sofa repair in Dubai along with upholstery & complete refurbishment and refurbishment services over years of experience.
Fabric: Natural or Synthetic?
– Natural upholstery fabrics include linen, cotton, wool, and silk. Take into consideration:
– Silk and linen, while most elegant, are not recommended for daily or heavy use due to the fragility of the fabrics and the difficulty in removing stains.
– Wool and cotton are both beautiful and kid-friendly materials. Both are hardy fabrics that don't pill up or wrinkle, making them suitable for frequent use. Wool has a somewhat natural stain-resistant quality to it. 100% cotton is the softest but is prone to stains and shrinkage, whereas cotton blends, while still quite soft, are more shrink and stain-resistant).
– Synthetic fabrics (or microfibers) are artificial fabrics created from plastic-type fibres from PVC, Polyamide (strong, used in carpets and outdoor furniture cushions) or Polyester (softer, used in upholstery and clothing). PVC is not popular as it was found to be environmentally unhealthy due to the toxic chemicals released during the construction or destruction phase. The most commonly used synthetic fabrics include Polyester, nylon, and acrylic, which can be used alone or blended with other natural or artificial fibres.
– Microfiber can be pretty soft and easy to clean and is available in various colours and styles.
– They can be produced to look almost exactly like natural fibres-like wool but tend to be more robust and durable.
– Synthetics are more prevalent in heavy-use areas (such as homes with children or teens) as they can withstand a lot of use.
– Many times, synthetics or synthetic blends are treated during the weaving process to make them extra resistant to spills, stains, and fading.
In conclusion, whatever your budget, whether you're looking for playroom furnishings or heirloom pieces, your options are as endless as your imagination!