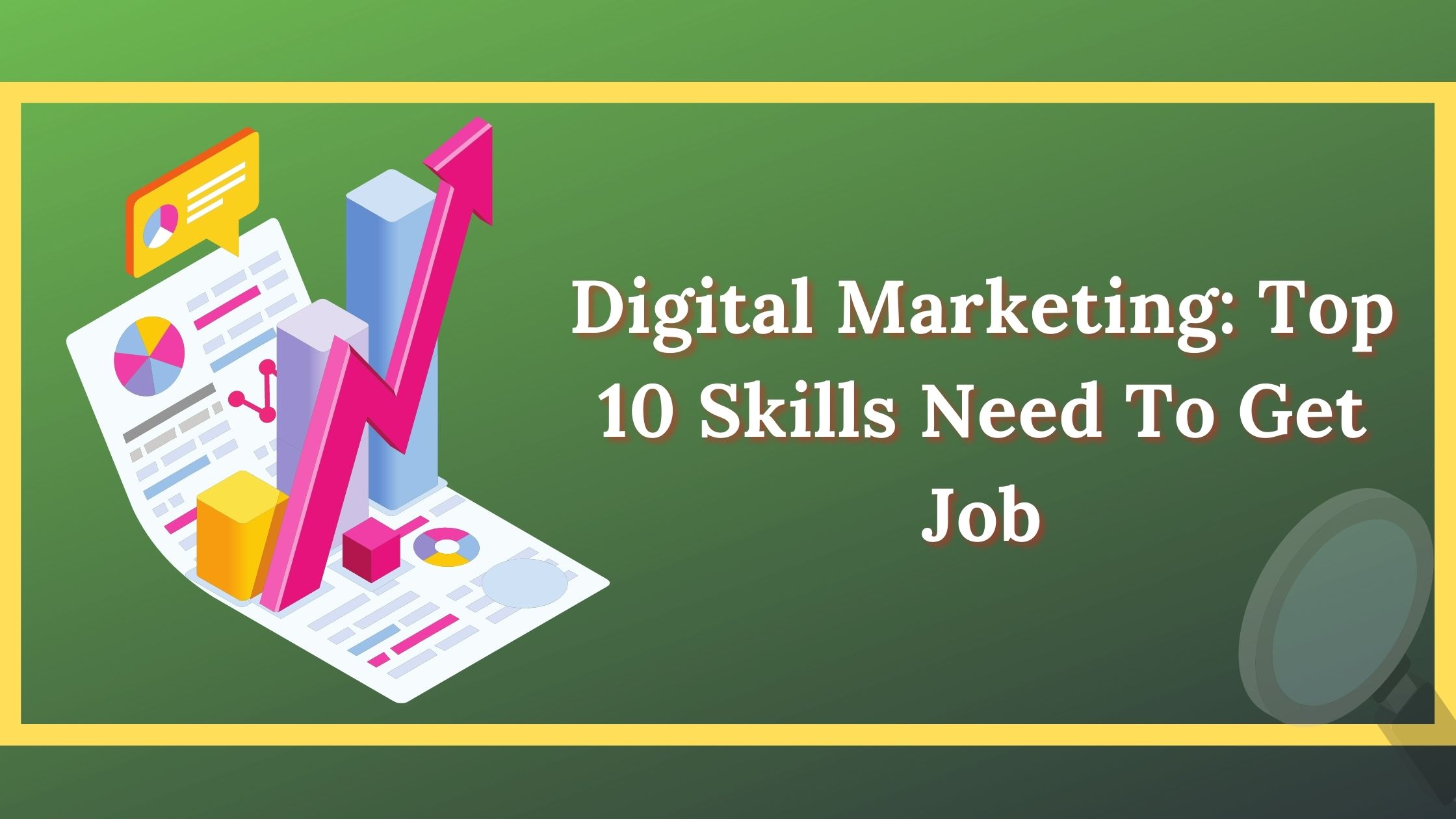 Digital Marketing: Top 10 Skills Need To Get Job
This article is about the top 10 skills that are needed in order to get a digital marketing job with surety. These skills are important when you want to become a digital marketer with a skillset.
Digital marketing has gone through a great transformation since the 1990s when it started in entertainment media, for example in movies or music, with one goal in mind: increasing sales of their products.
Today, digital marketing is a wide discipline with many applications and new challenges. It's a rapidly changing field dedicated to helping brands and marketers reach new audiences. And with the launch of new technologies such as bots and digital assistants, the online world has never been more interesting.
Digital marketing is one of the most important skills that you can learn since it's an essential part of successful companies today.
The Top 10 Skills are:
1. SEO
SEO is the abbreviation for Search Engine Optimization. It refers to the process of optimizing pages web in order to get good rankings in search engines when potential customers are looking for web pages.
2. SMO or Social Media Optimization
Social media optimization, or SMO, is the use of social media to help increase brand awareness, drive traffic to a website and build engagement with customers. To make it simple: SMO is using social media platforms like Facebook, LinkedIn, Twitter, etc. to increase site traffic.
3. Content Marketing
It is a component of marketing that helps brands and companies create content that attracts, engages, and informs targeted clientele. Content marketing is a great way to attract clients as it encompasses the use of multiple platforms but mainly on websites and social media platforms. The use of blog posts, videos, case studies, etc. are elements of content marketing that help customers. You can know more details from here – https://businesslay.com/
4. Email Marketing
It is an essential part of online communication since it's one of the most used communication channels. Email marketing is all about sending emails to potential clients with news, updates, or any other info that can help increase sales or keep customers engaged. An email marketing campaign usually involves sending newsletters to potential clients using email lists (often called Databases).
5. Digital Advertising
It is a great tool for attracting clients to your website or blog as well as social media. Digital advertising involves the use of digital ad networks that help marketers and webmasters place ads on different websites such as blogs, Facebook, Google, and many more.
6. Web Development
Web development involves the design and creation of websites and online applications. The goal of web development is to ensure a great user experience on any kind of device: desktop, mobile etc. Web development is a crucial skill that should be learned by any digital marketer since it helps minimize website downtime and improve user experience.
7. Mobile Applications
Mobile apps have become a major part of everyday life. Today, many companies have their own mobile apps in order to connect with customers, collect data or increase sales. Thus, a digital marketer should know how to develop mobile applications and optimize them for both iOS and Android devices.
8. Google AdWords
Google AdWords is an advertising platform provided by Google with which you can buy ads on Google or its partners' websites. It's a great way to attract new clients and increase online sales.
9. Analytics and CRM platforms
Analytics are important in order to measure digital marketing campaigns and see how visitors react to them. Today, several analytics platforms are used by marketers in order to track website traffic, identify areas of improvement, etc.
10. Paid Search
Paid search is a great way to attract customers to a website or blog, as well as search engines. It means that the site owner will pay a fee to companies in order to show their ads on websites and blogs. This is a great way for those who have only been using organic traffic from search engines, now they can use paid search, which stimulates more traffic.
Paid search advertising, or PPC, is a form of online advertising where advertisers pay to have their ads shown based on keywords. Companies typically bid on keyword phrases relevant to their business and in which they're interested, such as "golf clubs," "digital marketing," and "vinegar."
Conclusion:
These are the Top 10 Skills that you need to master when you want to become a digital marketer. Digital marketing has never been more exciting than today with the rise of new trends and technologies that are transforming the online world.
Digital marketing is an important skill that every marketer should master in order to increase sales, attract new customers, and help companies grow even when they're facing economic challenges. Job Search: The Best Kept Secrets Of The Job Seeking Process
Author Contact:
sundormon035@gmail.com