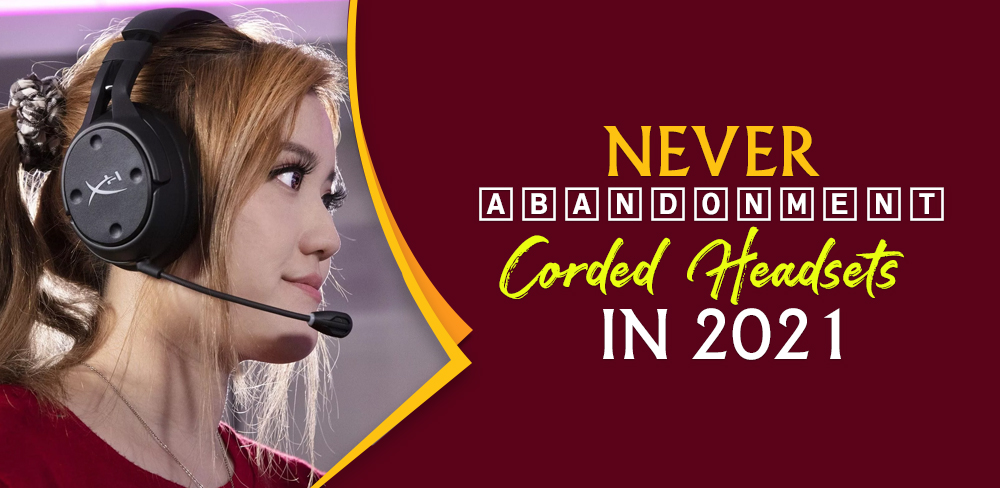 Never Abandonment Corded Headsets In 2021
Corded headsets are much more reliable than wireless devices in many ways. This headpiece category is a dedicated communicational device. It has high-quality microphones with the latest functions such as ANC and DECT technology. It comes with a large wire that users can easily connect with many devices for better and smooth-talking with their clients. Offices are using it because of its capability to reduce noise levels without impacting the quality and volume of the sound. It is affordable than cordless devices in many ways. It comes in minimum weight and has a lot of durable and comfortable structures.
If you own an office like a customer support center, a communicational tool is the first thing to consider. Without it, you cannot increase your productivity as you require reliable communication with your clients. Corded headsets can never get old in this regard. Like wireless devices, they do not give lagging issues and dead battery problems. Your primary device does not have to contain Bluetooth or wireless adapters to get connected with these headpieces. They are comfortable and available with unique features and qualities. Avoiding them for your office in 2021 will be a huge step back for your company.
Last Longer:
While dealing with electronic devices, you may have to show some care in handling them. If you have a huge call center or office, you cannot buy a communicational device every month. You need to find headgears that are more reliable and durable. Wireless devices contain many sensitive features. Even slight mishandling can cause breakage of these gears. That is when a corded headphone plays an essential and beneficial role. It is made from solid materials and has a durable structure. Its designs are quite impressive and flexible. It can easily bear the rough handling of employees and provide communicational benefits for a very long time. Make sure to go with it instead of buying expensive and sensitive devices.
Affordable:
You may think that wireless headsets are more convenient, and yes, they are. But if you are talking about the budget, only a wired device will help you maintain it. Compare both corded and cordless devices in this regard. A wireless headphone may have compatibility, easy handling, and a lot of the latest functionalities. But remember that all of those things will just increase its prices.
On the other hand, a wired headset has all characteristics of wireless devices except connectivity and comes at an affordable price. Therefore, you can buy it for your company in bulk amounts easily. It is easy to install this kind of headpiece on your employees' desks than invest in expensive cordless gears. However, it does not mean that a wired device does not contain unique characteristics.
Better Signal Transmission:
The quality of the sound is the first factor that you should consider while buying headpieces. Without having quality sound, there is no point in investing in expensive devices. People think that as wireless devices have digital transmission of signals, they are better than wired headgears. But the actual thing is the opposite of that. In corded headgears, analog signals travel through cables and make efficient traveling of signals. The direct connectivity you will get by using these kinds of devices will help you get premium sound quality. Therefore, it is practical to choose these tools for reliable communication with your important clients.
Reduce Noise Levels:
Noise is a huge factor that can ruin your important call with clients. Usually, in offices, there are a lot of noises and sounds going on in the background. You cannot remove the noise from the environment of your office. In this regard, you need to go with the device that can do that for you. Corded headsets these days are coming with ANC features. ANC is an active noise cancelation feature that can lower noise levels from communication. You can find this feature in the microphone of these devices. It can remove any disruptive sound and distortion from your calls and listening to music. Due to this, employees can provide important details to their customers quickly without any disturbance.
Do Not Require Charging:
Today, people are becoming more dependent on Bluetooth or charging devices. They always have to worry about charging their wireless devices. Some even utilize their tools while keeping them on set. If you want to boost your productivity, you cannot go with headpieces that put employees on charging issues all the time. A wired headgear, on the other hand, does not show these kinds of problems. It is compatible with almost every device as several adapters are available to connect with them these days. You can just plug it with your primary device, and it will start working. It provides more freedom to users than wireless devices.
Ideal For Professionals:
Do you ever think why all DJs and office workers use wired headgears? The only reason for this is that corded devices are more reliable than cordless headgears. In addition, the quality of the sound and options to control the levels of volume, bass, and pitch make these devices more efficient in communicating with customers. Audio engineers and artists prefer using them because they allow enhancing the sound quality with their programmable keys. Considering them for your office will be a step to increase your productivity for sure. Avoiding them will only reduce your chances of getting benefits for your company.
It offers companies a variety of corded headsets. The great thing about this platform is its efficient customer support center and affordable prices. It can provide headgears in bulk amounts without putting any pressure on your budget. In addition, this company offers the latest devices with a full guarantee of satisfaction. So make sure to put it in your consideration list if you are looking for the latest communicational tools for your business and daily routine work.