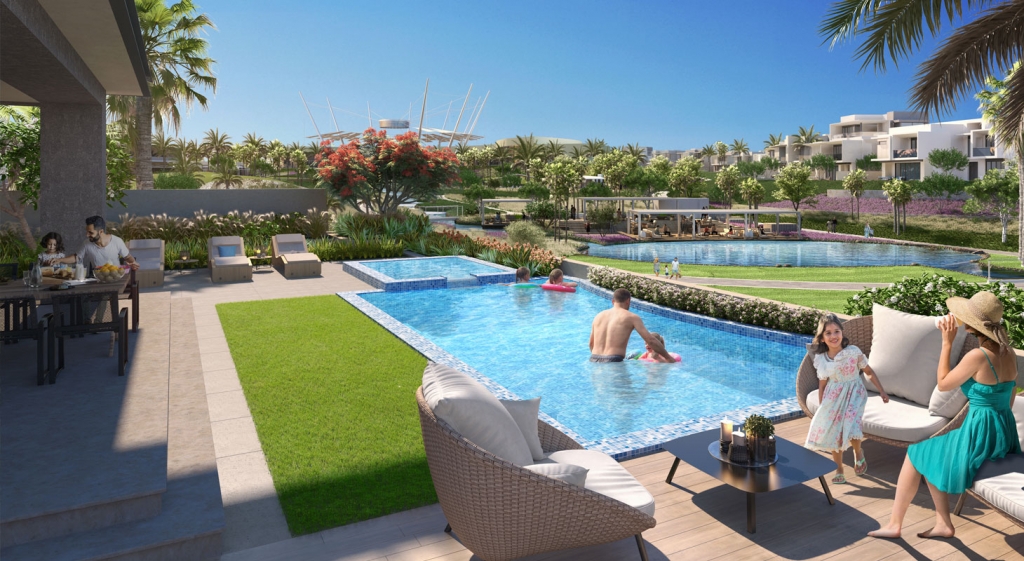 Book your Jebel Ali Village Villas in Dubai Launched by Nakheel
Jebel Ali Village Dubai has become a center of success among shoppers due to its beauty and facilities. Jebel Ali Village offers luxurious four- to five-bedroom villas. These magnificent villas are exemplary at reasonable prices due to their facilities. The booking of villas in this beautiful community has started on November 7 according to Villa Owners Club. The virtual brochure of these massive villas is now up and ready to serve the interested buyers. For those who are unaware of this new project, let us introduce you to Jebel Ali Village villas.
These magnificent villas are exemplary at reasonable prices due to their facilities. The 5-bedroom villa comes complete with a maid's room, laundry room, and storage room certain units also have a driver's room says the company. Jebel Ali Village's four-bedroom villas reflect contemporary style. Sizes range from 4,200 to 6,000 square feet.
Jebel Ali Village Villas at Perfect Industrialized Location
Jebel Ali village villas is an industrialized district that holds the largest man-made harbour in the world. It's also home to Jebel Ali Resort and JA Recreational Club, a continuously evolving community, and has a metro station. Located next to the exceptional Dubai Parks & Resorts.
You can live near one of the most incredible parks in Dubai with your family! This location will give you access to everything from theme parks to waterparks, so there's something for everyone here. And it's only 20 minutes away from downtown Dubai by car or 30 minutes on public transport – so no matter where you work or play, this place is perfect for you!
Jebel Ali District
Jebel Ali is a coastal neighborhood in Dubai's south. It boasts the world's largest man-made harbour, which can accommodate ships of all kinds, both new and old. The location of the port of Jebel Ali in the Jebel Ali Free Zone is a significant advantage. More than 7,000 enterprises from production, trading, logistics, and a wide range of industrial and service industries today call the free trade zone home, which was established in 1985. Since its inception in the 1980s, Jebel Ali has been a heavily industrialized suburb with little regard for housing.
Jebel Ali Residential Area
Dubai has been steadily increasing as a result of the booming economy. In addition, the government is encouraging people to move out of Dubai and into other emirates such as Abu Dhabi and Sharjah. This has resulted in an acute shortage in housing for both expatriate workers and Emirati nationals alike.
By introducing a modern residential community that offers affordable Jebel Ali village villas for sale, Nakheel can help alleviate this problem while also providing much-needed jobs within the construction sector. Jebel Ali Village Villas will build new neighborhoods with schools, mosques, and recreational facilities including parks, playgrounds, sports fields, etc., all fully equipped with state-of-the-art infrastructure systems such as water supply networks (both potable & sewage), electricity grids, telecommunication networks, etc.
Jebel Ali Old Developments
Several planned real estate developments were put on hold during the real estate crash of 2008. And some of these amended plans were only outlawed in 2017. Nakheel, the developer of the Palm Islands, plans to construct 80 residences in Madinat Al Arab on the site of the Dubai Waterfront Project, which is located on the coast opposite the Palm Jebel Ali.
In his municipality of Veneto, the same promoter has now constructed 177 villas and villas for rent on the land side of the waterfront canal, a "unique" residential district with 1,400 villas and cottages and 1,200 low-rise apartments.
Nakheel developers, has now opened the new Jebel Ali Village. Jebel Ali Village villas has been transformed into a gated community with on-site amenities such as a mosque, bike routes, jogging trails, swimming pools, parks, and playgrounds. On Sunday, November 7, 2021, the first phase of the sale of the four and five-bedroom villas began.
You can also be a part of this gated community because advance booking has started from 7th November. For further detail call Binayah Real Estate or visit binayah.com