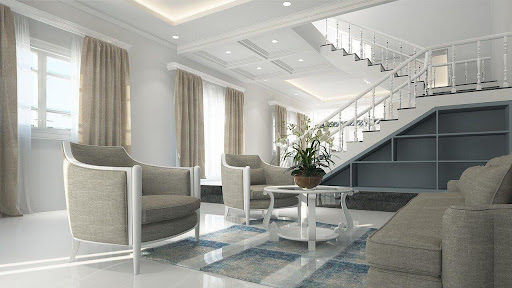 Five Great Ways to Brighten Your Home
Natural light is calming and brightening. It can help you be naturally more awake and productive throughout the day and is one of the most important design elements of your property. If there was no light, you wouldn't be able to see anything or engage with your space visually. Changes in lighting also affect the mood and how you feel in it. A bright space is innately energizing, which can actually help you stay calmer since you aren't fighting your brain to stay awake during the day.
There are so many ways that you can brighten your home as well, with these top five options a great choice for most properties.
Think Clear
One of the best ways to brighten the home is to remove obstacles from sources of natural light. If you have a large window in your front hallway, for example, large, thick railings are only going to cut off that light path and make corners in your home darker than they need to be. A top alternative to bulky railings in this instance would be glass. Since glass is so delicate and installation requires a lot of specialist skill, it's important to bring in a Q-railing installer instead of attempting this on your own.
The DIY-friendly version of this tip is to opt for glass furniture, like tables. Glass or at least just clear furniture also lets light travel further and offers the added benefit of making the spaces they're in look visually larger and less cluttered.
Use Light Colors
While white is popular, it's not the only light color that you can use to brighten the space. Soft pastels are a great alternative and can help you really make any room feel brighter, and even bigger. While walls are a popular option, you'll also want to consider textiles. Light-colored furniture and rugs can similarly brighten up a space by giving light more to bounce off of.
Keep your Home Free of Visible Clutter
We all have clutter, but that doesn't mean that we have to see it. Invest in multi-purpose furniture pieces that have hidden storage, or alternatively integrated storage solutions that allow you to hide away all those necessary bits and bots. Clutter casts shadows, collects dust, and can make a space feel enclosed. While you can absolutely use décor to make a space feel homely, you want to be able to control what gets shown, and what doesn't. Storage (preferably concealed storage) is the way to do that.
Mirrors
Mirrors are a great way to make any space feel larger, especially when they're placed opposite a window. For the best results, try to position the mirror so that it reflects your favorite part of the home. If you have a great garden space, this is as simple as placing it opposite your window.
Ambient Lights
While overhead lights are going to physically brighten a space the most, these are often harsh and make us feel uncomfortable. Ambient lights, like table lamps, floor lamps, andwall sconces are much more comfortable, cozy, and will work to brighten your space beautifully.