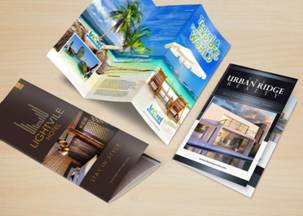 Digital Prints and Brochures
Every business in the market needs promotional materials to be visible to customers, and an example of such materials is a brochure. There is no need to have an internal printing team in every business, which is why there are print companies available in the market. If businesses are able to secure the services of reputed brochure printing companies to develop visually appealing promotional materials, they have a greater likelihood of attaining success.
What is Presented in a Brochure?
Numerous businesses, including schools, pathology labs, and automobile dealerships benefit from brochure printing online. Consider any brochure and it is easy to see that brochure printing gives marketing material more substantial appearance than a flyer. Additionally, it is frequently turned over when someone is actively seeking the services provided. The thickness and quality of paper being used matters to a great extent.
A brochure is responsible for building an element of trust with company products and services. Most people are interested to hold matter physically in their hands to develop this trust. This is the primary reason why many businesses continue to invest in high-quality brochures.
Contact a Reputed Print Provider
Brochures need to be rolled out by reputable print providers, and this will continue to be a requirement over a long period of time. This ensures a high level of satisfaction, not just for the client but also for the end user. The example of a college brochure typically springs to mind here.
Print Instructions
Consider the following parameters to ensure that the appropriate instructions are delivered to the print company:
Paper Type– In order to give the final product a professional appearance, it is vital to have the appropriate paper type. Perhaps the best option is a little heavier printing paper with a coating.
Classification as per Layout and Design – Brochures are classified into the following categories as per layouts and designs:
Brochures with Four Pages
Self Addressed Envelopes
Tri-fold
Best Sizes– A brochure should always be printed in one of two standard formats that are 11″X7″ or 8.5″X11″.
Attractive Colors– It is possible to customize a brochure in a variety of colors. Full color print will always be very appealing to audiences. Naturally, high-quality and authentic images will aid in strengthening the brand's image.
Folds– Brochures are available as per the following three folds:
Half fold (four pages in one fold)
Z fold (similar to an accordion)
Tri fold (promotional text being present on the right and left flaps)
Placing Bulk Orders
In most cases, printed items such as brochures will be ordered by companies in bulk. However, there is no need to be concerned about these bulk orders reaching in time. The entire print process coordinated with a reputed print company will be hassle free. Before placing the order, companies will clarify if they'll be able to complete the order on time or not. By interacting with them, each print business will be able to avoid the hassle and expense associated with fly-by-night companies.
Samples can always be ordered to get an idea of the print quality. These are often used as a basis for print companies to send their price quotes.
Digital Prints Are Currently in Use
Over the last year, traditional prints have given way to digital prints. Despite final outputs being available in traditional print, there are a lot of technology-driven solutions that can be seen in the digital market. With the introduction of digital marketing, businesses are competing to be the best in the digital realm. Today, it is easy to contact print companies who can get printouts as per quality and budgetary requirements and also send them online.
Following the Latest Print Trends
Print companies may be printing a lot more than just brochures. Whatever be the case, it is important for them to keep in touch with the latest print trends. This can be done through knowledge of the following:
Design Clarity— Too many images in a design are a no-no. Rather than that, businesses are focused on creating simpler, clean designs for their printed pages.
Application of Artificial Intelligence– Several well-known corporations have already joined the field of Al and are utilizing it in print. AI enables the scheduling of printing tasks, with further possibilities in the coming years.
Latest Technology– Similar to AI, many print companies now make use of technologies such as IoT-based web-to-print software. This helps them fulfill the needs of several new generation media houses.
Maximum Customer Security- The majority of organizations, including educational institutions, media outlets, hospitals, and even print companies, invest significant sums in identification with the aim of obtaining written reports. It prevents any employee from gaining access to confidential information.
Only the technology for print has changed; the demand still remains strong.