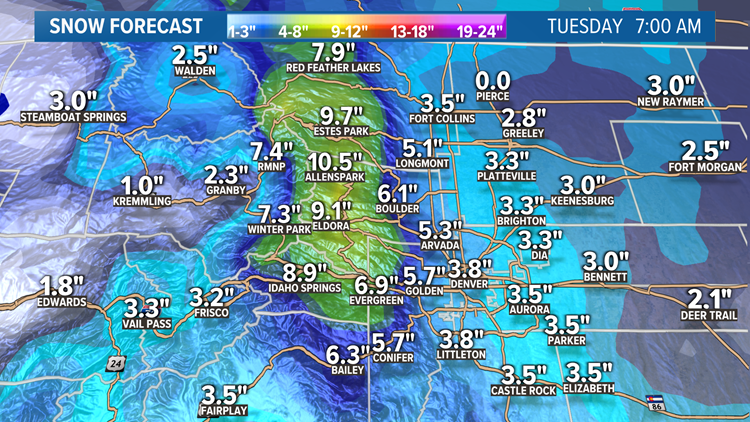 Snow starts Monday afternoon, ending before Tuesday morning commute.
DENVER — This blog watches winter storms develop in computer modeling. 
The storm system that has been teasing Colorado with snow showers all week is finally making its move to the east. It will bring wet snow to the Front Range and eastern plains Thursday afternoon through the day on Friday.
> DOWNLOAD APP FOR IPHONE HERE 
> DOWNLOAD APP FOR ANDROID HERE
RELATED: Snow totals: Here's how much snow has fallen in Colorado
RELATED: How to remove snow from your trees during an April storm
April 19-20 (Mon-Tue) 
The next spring snow in Colorado moves in on Monday morning from north to south. Big snow possible in the foothills, while the Denver area is expecting 3-6″.
MOUNTAINS: This system should start impacting the northern mountains by about 10am on Monday morning. Lightly at first, but getting heavy by the afternoon hours. 
Rocky Mountain National Park and the Indian Peaks could get between 5-10 inches of snow. Summit County towns are in the 2-4″ range of expectations with Winter Park in the 4-8″ range. 
Less snow moving west of the Continental Divide and less snow south of the Front Range mountains. 
FOOTHILLS: There could be another big hit for the foothills, especially north of I-70. Most spots will likely end up in the 6-12″ range. There should be some snow accumulation there by 1pm. 
Roads will be snowy and dangerous, possibly even before dark .
FRONT RANGE: A winter weather advisory does cover the Front Range urban corridor with possibly 3-6″ of snow accumulation. Most areas along I-25 from Castle Rock to Ft. Collins will likely end up between 2-4″. Some of the higher metro suburbs to the south, west, and northwest will likely get a little more snow. Those spots are in the 3-6″.
Much of Boulder County could get into the 4-8″ range. 
The bulk of the precipitation should be between 2pm and 2am, starting in the north near Ft. Collins and moving south. 
There will be a chance for rain and mixed showers initially but should quickly turn to very heavy snowfall. Possibly about 1 inch per hour rates. With a flash freeze type of a scenario possible, snow could accumulate on the roads early in the evening. Temps could drop from about 40 degrees down to the 20's in less than 6 hours. 
The bulk of the snow should end around midnight, but could continue lightly and scattered all the way to sunrise. 
While snowfall is not likely in the Denver metro for the Tuesday morning commute, cold temperatures near 20 degrees, could create very slick driving conditions. Some models are even indicating a chance for temperatures to drop into the teens by sunrise.  
Road crews will have all night to get the snow off of the roads, so ice could be the biggest danger by Tuesday morning. 
Eastern Plains: Moderate to heavy snowfall will also cover the eastern plains at times. Accumulation will likely be between 1-3″ north of I-70 with 0-2″ to the south. 
CHANCE OF SNOW IN DENVER:  100%
EXPECTED ACCUMULATION AT DIA: 3.3″
April 21-22 (Wed-Thur) 
Another wintery storm system is expected to move in from the west on Wednesday. It looks like snow accumulation will once again be possible in the Denver metro with models showing about 1-2 inches. 
Mountains could pick up another 3-6 inches in spots. 
CHANCE OF SNOW IN DENVER:  30%
EXPECTED ACCUMULATION AT DIA: 1″
April 23-24 (Fri-Sat) 
A quick hitting system on Friday could bring 1-4 more inches to some mountain locations. Front Range is no being shown with snow accumulation with this one. 
CHANCE OF SNOW IN DENVER:  5%
EXPECTED ACCUMULATION AT DIA:  0″
April 27-28
After a couple of nice days, another winter system will move in sometime around Tuesday Apr. 27.  While this one is not indicating snow accumulation on the Front Range at this point, it could bring several more inches of snow to the high country. 
April 28 is the average last day of snow accumulation in Denver. 
WEATHER LINE 9: Updated weather forecast information at 303-871-1492.
SUGGESTED VIDEOS: Local stories from 9NEWS