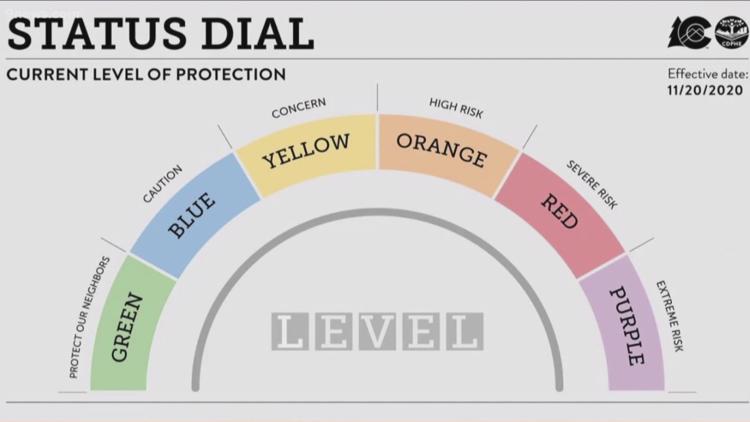 Jefferson County Public Health and Tri-County Public Health outlined a regional plan that includes two recovery phases that start Friday.
JEFFERSON COUNTY, Colo. — Jefferson County Public Health (JCPH) and the Tri-County Health Department (TCHD) released some details on Tuesday on how the Denver metro area will move forward with pandemic restrictions after the mandatory statewide COVID-19 dial comes to an end.
Many county health departments throughout the state are issuing their own guidance as the state executive order mandating that counties adhere to the limits set out by Dial 3.0 ends on Friday.
At a news conference Tuesday with Gov. Jared Polis, TCHD Executive Director John Douglas said health departments in the Denver metro area joined together into the Metro Denver Partnership for Health to develop a regional plan.
The counties involved are Boulder, Broomfield, Jefferson, Denver, and the three counties covered by TCHD: Adams, Arapahoe and Douglas.
"We've collaborated with public health departments across the Denver metro area for the past several weeks to ease our transition back to full reopening," Douglas said.
Together, the counties agreed to a general timeline to guide the region through a recovery phase and full reopening by summer with a new COVID-19 dial level called Level Clear.
RELATED: Here are the counties considering their own COVID dial
> Video above: Colorado counties begin to make their own COVID-19 dials
The public health orders vary slightly from county to county, but the timeline is generally the same across the region, Douglas said.
JCPH's release on Tuesday of its public health order showed what that timeline would look like. The plan includes two phases:
Phase 1 goes from April 16 through May 15. Individual counties can operate at one level below their current level on the state's Dial 3.0. That will be Level Blue for Denver, Broomfield, Boulder, Jefferson, Douglas and Adams, and Level Green for Arapahoe.
Phase 2 goes from May 16 through Aug. 16. This is an observation period during which the counties will move to a new level on the dial, Level Clear, which has no restrictions.
> Read the full JCPH public health order here.
Under Level Clear, businesses can operate at 100% capacity, though indoor mask requirements could still be in effect, JCPH said. During this period, the health departments plan to monitor hospitalizations. If those hospitalization rates pass a certain level, a county could impose new capacity limits.
"We are confident this brief phased approach will allow our community to work to get our recent increase in COVID-19 transmission back under control, while we race to quickly vaccinate as many people as we can and prevent another surge driven by more contagious variants," said Dr. Dawn Comstock, JCPH executive director, in a press release. "At the same time, our local businesses can better plan for the near future."
Also, JCPH's new public health order suspends the county's Five-Star Certification Program for businesses. The county's mask order remains in effect.
RELATED: Polis to give update on state's response to COVID-19 pandemic
RELATED: Colorado orders all providers to pause use of Johnson & Johnson vaccine
SUGGESTED VIDEOS: COVID-19 Coronavirus